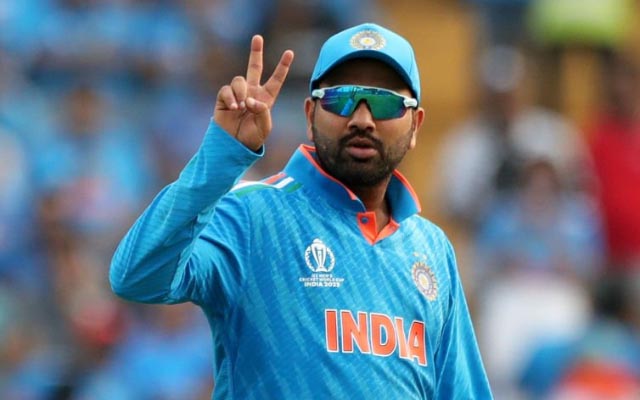 Rohit Sharma emphasized the team's focus on striving for a near-perfect game rather than an unbeaten campaign, highlighting the importance of internal improvement and focusing on playing well in every match.
India remains unbeaten in the World Cup, securing six victories out of six matches. The campaign began with a win against Australia and continued with triumphs over Afghanistan, Pakistan, Bangladesh, New Zealand, and England.
Captain Rohit Sharma's focus is on striving for a near-perfect game, emphasizing the importance of internal improvement to enhance the team's performance. While they've had their share of imperfect games, the goal is to aim for near perfection as they move closer to the knockout stage.
"We are not trying to look too much into the opposition, we're trying to internally look into ourselves and see where we can get better as a team, better as a player, certain areas that we want to work on. Yes, we have won six games, but there have been a lot of games where we did not have a perfect game. And you cannot have a perfect game, but near perfect game is what you want as a team. So those are the things that we try and look into," said Rohit.
"No, we are not thinking of going that far, honestly. We just want to win every match. I have said this so many times, that for us, every match that we play is important. How we do well in that, what things we didn't do in the last match, how we can do in this match. And after that, we move our vehicle forward. It won't be right for us to think about the future, that we have to go unbeaten, and stay unbeaten. The goal is to play every game and play it well," he added.
India is on an impressive unbeaten streak in the World Cup, reminiscent of only Australia and West Indies' undefeated campaigns. Rohit Sharma's explosive batting form, coupled with adaptability and patience, has strengthened the team. Although he narrowly missed a century against England, his captaincy revolves around situational awareness and team success.
"Yes. I'm enjoying my batting. But obviously, keeping the situation of the team in mind, it's not like I just have to go and swing the bat. I have to swing it well, play well and keep the team in a good situation. When I open, the scoreboard starts from zero. So as a batsman I have to think, I have to set the tone for the game. So, I have that advantage or you can call it a benefit that I am starting the batting and there is no pressure of wickets because everything is 0-0, so when you have to start like that, you can be fearless and you can play the way you want to play but then last game we were put under pressure a little bit in the power play. We lost three wickets. So, the game should be changed."
"So, I think as a batsman my focus is on what the team needs at that time. What is needed in the first over, what is needed in the fifth over, what is needed in the tenth over. What is the team's score, how many runs are they chasing, how much score is good on the ground? All these things. I think about all these things when I bat. So whatever situation demands at that time, I try to play according to the situation," Rohit explained.
Rohit Sharma also acknowledged the ebb and flow of public perception regarding his captaincy, understanding that a single game's outcome can drastically change opinions. He remains focused on what's best for the team.
Regarding Hardik Pandya's injury, Rohit provided a day-to-day assessment, highlighting the positive aspects of his recovery after a recent procedure. While Pandya won't play the upcoming match, his progress is monitored continuously with the World Cup in mind, and the skipper hopes to see him back in action soon.
Last Updated on November 2, 2023