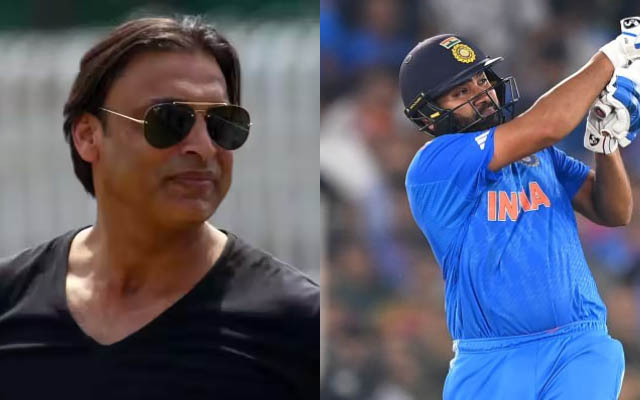 Shoaib Akhtar lauded Rohit Sharma for a dominating performance that humiliated Pakistan's bowling attack and considered it a revenge for his recent lackluster performances.
In the recent ICC World Cup 2023 match at Ahmedabad, Rohit Sharma's stunning performance earned him high praise from Shoaib Akhtar, who commended the Indian skipper for his dominant display against Pakistan's bowling attack. Rohit Sharma's exceptional 86 runs off 63 deliveries played an important role in India's solid 7-wicket victory over Pakistan, successfully chasing down 192 runs.
Shoaib Akhtar, when reflecting on the match, described Rohit's innings as a humiliation of Pakistan's bowlers, considering it a form of payback for his previous struggles in the past two years against Pakistan. Akhtar applauded Rohit's aggressive approach, suggesting it's better to finish the game decisively rather than leaving it for the last overs, and he welcomed Rohit's impressive return to form.
"The kind of innings he played, he humiliated Pakistan's bowling attack. He took revenge for the last two years where he didn't get many runs. Good to see Rohit Sharma back, he did right to smash the bowlers. What's the need of finishing the game at the last overs and take it deep? Rohit hammered the bowlers," Akhtar said on his YouTube channel.
"Disappointing performance, a very disappointing performance. Today, India completely hammered Pakistan. Rohit Sharma was a one-man army. I don't know where was Rohit Sharma in the last couple of years. He is a very big player and has a wide range of shots. He is a complete batter, a complete team," Akhtar added.
In the ODI World Cup 2023, Rohit Sharma achieved a milestone by becoming the first Indian to hit 300 ODI sixes, surpassing Chris Gayle's international record with a total of 559 sixes in 454 matches.
Last Updated on October 15, 2023