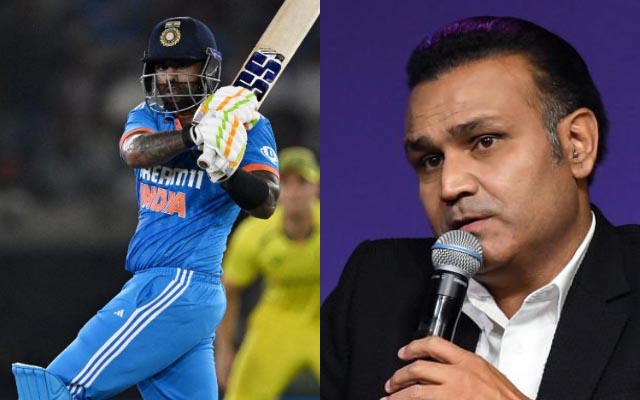 Virender Sehwag believes it's a challenge for Suryakumar Yadav to secure a spot in India's ODI World Cup XI due to the currently congested middle-order lineup.
Suryakumar Yadav's recent standout performances, including a sensible half-century and a quickfire 71-run knock against Australia, have showcased his adaptability in ODIs. However, the return of KL Rahul and Shreyas Iyer complicates his XI inclusion.
Virender Sehwag discussed India's crowded middle order, highlighting the challenge for both Ishan Kishan and Suryakumar to secure World Cup spots.
"At No. 6 and 7 KL Rahul and Hardik Pandya will be there. So Suryakumar won't be there at either of those positions. There is No. 5 though. But if Hardik Pandya is your sixth bowler then Rahul will bat at No. 5, and Hardik at No. 6, then comes the bowlers. We thought Ishan Kishan could fit in somewhere in the line-up, but that hundred which Shreyas Iyer scored, if he plays at No. 4 then it will be Iyer, Rahul and Hardik at No. 4, 5 and 6 respectively," Sehwag said to Cricbuzz.
Suryakumar Yadav's ODI record comprises 30 matches with 667 runs at an average of 27.79, raising doubts about his place. KL Rahul's comeback century against Pakistan and Shreyas Iyer's strong ton against Australia have strengthened their cases.
The former batsman further emphasized Ishan Kishan's advantage as a left-hander in the race for a spot in the XI.
"Now it depends on how India look at this combination, whether they feel Hardik will certainly bowl 10 overs because that will give India an extra bowler. So then Suryakumar cannot fit in there and even if there is a slot, then Ishan should be picked ahead because he is a left-hander," Sehwag added.
Last Updated on October 2, 2023