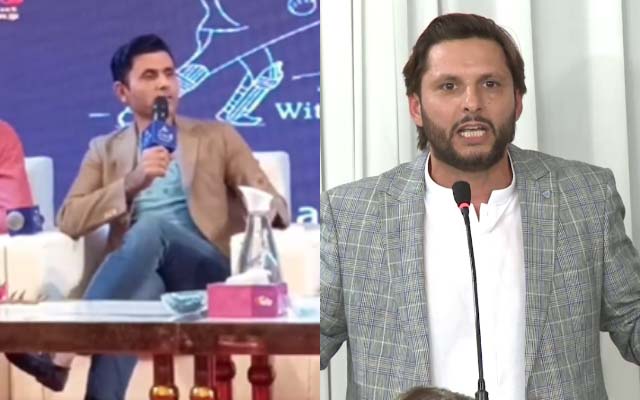 Shahid Afridi addressed Abdul Razzaq's controversial remarks on Aishwarya Rai, expressing his realization post-viewing the clip at home, intending to text Razzaq to apologize for the wrongful statement.
Following Abdul Razzaq's controversial remarks about Aishwarya Rai, Shahid Afridi, the former Pakistan captain, addressed the backlash. Razzaq's comments during a recent event sparked outrage, when he made inappropriate remarks about the Bollywood actress, prompting a viral clip on social media.
In the video, Afridi and Umar Gul were seen present and smiling at the comment, drawing criticism. Razzaq's comment suggesting, "I would never have good and pious kids if I marry Aishwarya Rai," fueled widespread outrage.
WATCH THE VIDEO | Abdul Razzaq Faces Heavy Backlash for Controversial Aishwarya Rai Reference in Criticizing Pakistan Cricket
When speaking on a Pakistani News Channel, Afridi clarified that initially, he was unaware of Razzaq's comments but later understood and intended to address the issue with him.
"I saw the clip when I went home and realized that Abdul Razzaq made a wrong statement. I knew he had a mike in his hand and will say something. He has a habit of getting beaten by shoes. I will just text him to apologize for what he said as it was wrong," Afridi said.
Umar Gul, responding to criticism after Abdul Razzaq's controversial statement, clarified that their gestures in the clip were sarcastic, not an endorsement. Gul asserted the remarks were "ethically and morally wrong," explaining they did not approve of Razzaq's comments.
Meanwhile, Pakistan, led by Babar Azam, failed to reach the ODI World Cup 2023 semifinals, securing fifth place with only four wins out of nine matches.
Last Updated on November 15, 2023