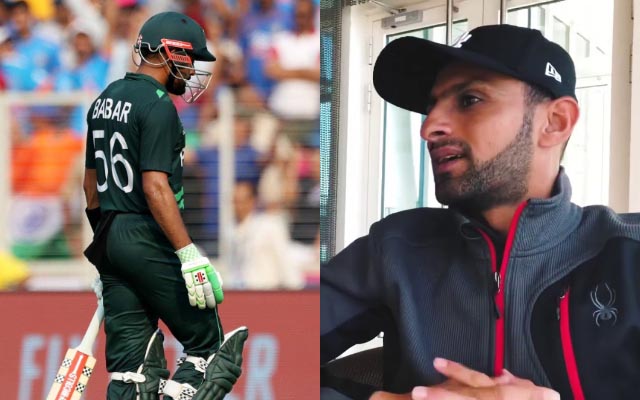 Pakistan all-rounder and former skipper Shoaib Malik has suggested that Babar Azam should step down from the captaincy role, highlighting Babar's potential to excel as a batter.
In a highly-anticipated clash at the ODI World Cup 2023, India secured a solid win over Pakistan at Ahmedabad's Narendra Modi Stadium, comfortably chasing a 192-run target in 30.3 overs with seven wickets to spare. This marked Pakistan's second defeat to India within two months, following their loss in the Asia Cup 2023. As a result, Babar Azam's captaincy is now a subject of significant debate.
Opinions are divided on whether the 29-year-old should continue as the national team's captain, with some advocating for more time and others suggesting a change in leadership. Shoaib Malik, a former captain himself, expressed his view after the recent loss, stating that Babar should step down. Malik underlined that Babar, as a right-handed batter, has the potential to contribute significantly both personally and to the team's success.
"Look, I will give you my honest opinion on this. I have already said this in previous interviews that Babar should leave captaincy, it is just my opinion but there's a lot of homework behind it. Babar, as a player, can do wonders for himself as well as the team. It is my personal opinion and that is not because we lost the game today [against India] or we lost by a big margin, no it is not built on that," said Malik when speaking to A Sports.
Malik also raised a crucial point about Babar Azam's leadership style, noting that Babar tends to stick to conventional approaches, even in high-pressure situations, despite his lengthy tenure as captain. Importantly, Malik clarified that his perspective is based on extensive observations rather than personal bias.
"I think that Babar, as a leader, doesn't think out of the box. One shouldn't mix his leadership with his batting skills as they both are different. He has been a captain for a long time now, but he hasn't been able to improve himself," he added.
Last Updated on October 16, 2023