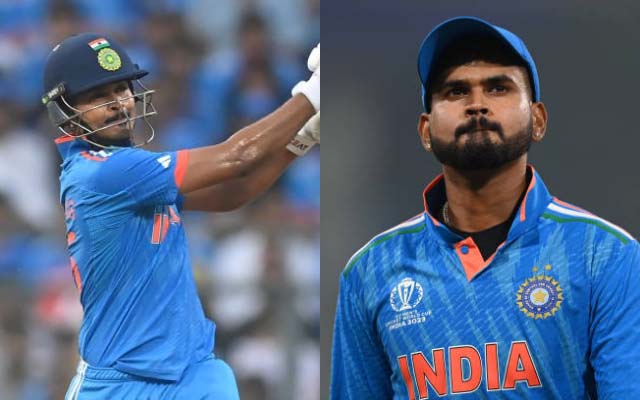 Shreyas Iyer strongly refuted claims of struggling against short balls during a post-match press conference, blaming the media for perpetuating the narrative.
After a stellar performance of 82 off 56 in India's dominating victory over Sri Lanka, batter Shreyas Iyer vehemently dismissed the prevalent notion that he struggles against short-pitched deliveries, placing the blame on the media for perpetuating this narrative.
In a post-match press conference, he challenged a journalist's statement that suggested 'short ball has been a problem for him since the beginning of this World Cup,' asking for clarification on what the journalist meant by "problem." Iyer's spirited response came after India's resounding 302-run win in the 2023 World Cup at the Wankhede Stadium, where India posted 357/8 while batting first.
When the journalist further suggested that short balls had troubled him, Shreyas Iyer disagreed, highlighting that he had executed numerous successful pull shots that resulted in boundaries.
"Troubled me? Have you seen how many pull shots I've scored, especially that have gone for four? If you're trying to hit a ball, you're bound to get out anyway, irrespective of if it's a short ball, if it's overpitched. If I get bowled two or three times, you all would say, 'he can't play an in-swinging ball, he can't play a cut if the ball is seaming," Shreyas said.
"We as players, we are bound to get out on any sort of deliveries. You guys have created that mahaul (atmosphere) outside that 'he can't play a short ball', and I feel that people are picking that up now and then and it plays on your [the media's] mind regularly, and you keep working on that," he added.
Despite having faced challenges with the short ball in the past, Iyer showcased his confidence against it during the match against Sri Lanka. He attributed his ability to handle rising deliveries to his experience playing in Mumbai, particularly at the Wankhede Stadium, where he has become accustomed to the extra bounce.
While acknowledging that taking risks in batting can lead to dismissals, he also underlined that such experiences didn't necessarily constitute a problem, despite the perception that it might be. Iyer's exceptional innings featured three fours and six sixes, including a massive 106-meter six, the longest of the tournament.
Last Updated on November 3, 2023