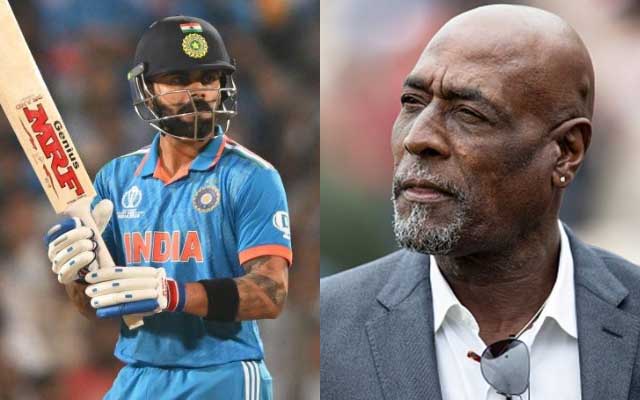 Cricketing Legend Sir Vivian Richards praises Virat Kohli in his column on the ICC's website for the latter's professional prowess in the current season.
In the 2023 edition of the ICC Men's Cricket World Cup, Indian all-rounder Virat Kohli stands in second place after South Africa's Quinton de Kock with 543 runs in 8 innings.
Virat Kohli has played a pivotal role in several of India's victories, particularly when chasing targets. The former Indian captain has also achieved a remarkable feat by surpassing Sachin Tendulkar's record for the most runs scored in a single year in ODI cricket. As he heads into India's final league match against the Netherlands, Kohli is expected to maintain his exceptional form. His highest score in the current World Cup stands at an unbeaten 103.
Former West Indies cricketer, Sir Vivian Richards described Kohli's formidable play this season in his column on the ICC's official website, writing, "There have been a whole host of talented individuals on show but to top them all, you cannot look past Virat Kohli. I am a huge fan of Virat, I have been for a long time, and he continues to show why he has to go down as one of the all-time greats, right up there with the likes of the great Sachin."
"Virat will have been through some tough times before this World Cup and some folks were even brave enough to call for his head. Credit must be given to the backroom staff and everyone who backed him. So much was said about his form but he is back on top of his game. It is phenomenal to see an individual who has had his low points bouncing back and playing like this. They say form is temporary – and he has certainly proven that class is permanent. I am so happy for him, he looks so focused and he is a credit to the game of cricket," he added.
The Men in Blue have displayed sheer dominance in the current ODI World Cup, maintaining an unbeaten record with eight victories in as many games. Led by Rohit Sharma, the team has recently showcased exceptional performances, winning the last two matches by thoroughly outclassing their opponents and restricting them to less than 100 runs in both instances.
Last Updated on November 10, 2023