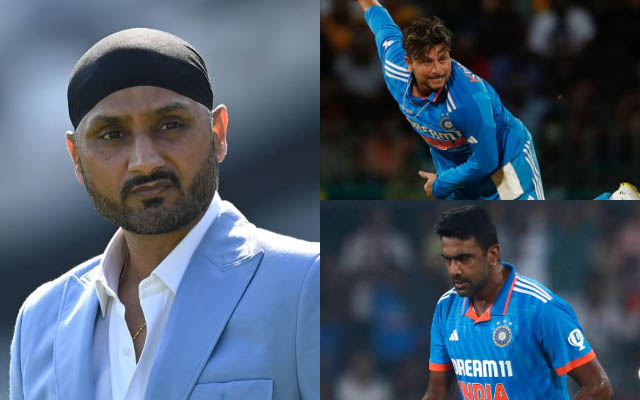 Harbhajan Singh has omitted Kuldeep Yadav from his preferred India World Cup bowling lineup, featuring Bumrah, Shami, Siraj, Jadeja, and Ashwin as his top choices.
In 2023, Kuldeep Yadav undeniably shines as one of India's premier ODI performers, amassing a remarkable 33 wickets in just 17 matches. His statistics establish him as the team's leading wicket-taker in the format this year.
Nevertheless, cricket legend Harbhajan Singh advocates for Ravichandran Ashwin's inclusion as either the first or second choice when composing India's optimal bowling attack for the upcoming 2023 ODI World Cup.
Notably, Ashwin marked his ODI return in the recent Australia series after a hiatus of nearly 20 months, making an impact with four wickets across two matches. Intriguingly, he wasn't initially included in India's World Cup squad but later replaced Axar Patel, earning a spot in the lineup.
Harbhajan Singh, speaking on ESPNcricinfo, emphasized the growing recognition that skill takes precedence in cricket strategy.
People are realising that skill is more important. It's not like an offspinner shouldn't bowl to right-handers. Even I mentioned that Ashwin should play if the opposition has more left-handers, but that is what the management thinks? But if I was captain of the team or part of management, I would pick my five best bowlers and Ashwin would be first or second on that list," said Harbhajan.
"If I had to pick today, it would be (Jasprit) Bumrah, (Mohammed) Shami, (Mohammed) Siraj, (Ravindra) Jadeja, Ashwin," he added.
Ravi Shastri underscores that Kuldeep's spot in India's playing XI for the World Cup is contingent on both the opposition's strengths and the wrist-spinner's performance early in the tournament. He stresses the importance of adaptability, indicating that he will analyze opposing teams to anticipate their strategies.
With Ashwin's presence in the squad, selecting the final XI presents an ongoing challenge due to the flexibility he brings to the team.
"Kuldeep is not a certainty, unless he comes in and starts off brilliantly. Yes, there is no question about Kuldeep's performance. He has been bowling at his best after a long time but on a certain day and on a certain track, if the pitch is dry, you would want only two fast bowlers because there is Hardik Pandya as well," said Shastri.
Last Updated on October 4, 2023