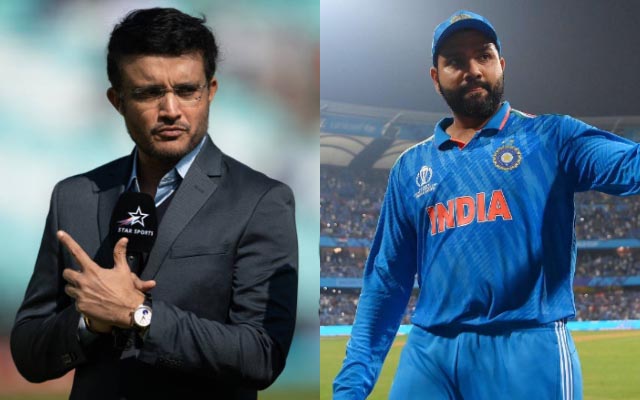 Sourav Ganguly disclosed that Rohit Sharma initially showed reluctance to assume the captaincy of the Indian cricket team after Virat Kohli stepped down, prompting Ganguly to issue an ultimatum.
In a chat with Kolkata TV, former BCCI President Sourav Ganguly unveiled that Rohit Sharma initially hesitated to assume the captaincy of the Indian team after Virat Kohli's departure. Despite being Kohli's deputy in white-ball cricket, Rohit was initially reluctant. When Kohli stepped down from T20I captaincy, it was apparent Rohit would succeed him. Ganguly, recognizing Rohit's captaincy skills, issued an ultimatum for a decision.
"Rohit Sharma was not keen on becoming captain of the Indian team. It had gone to a stage where I had to issue an ultimatum that either you say yes or I will announce it to the world. I did it because he is an outstanding captain. After Virat Kohli vacated the position, he was the best man to lead India. And I am not surprised that he is doing well," Sourav Ganguly said.
Having consistently taken the captain's role when Virat Kohli was rested, Rohit had proved his leadership abilities with victories at the Nidahas Trophy and the Asia Cup in 2018. His impressive track record, featuring five IPL titles, made Rohit the clear and logical choice to succeed Kohli as the captain of the Indian cricket team.
"I don't know why he was hesitant, but it could be due to the amount of cricket that he has been playing. Test, ODI, T20I and then the IPL, there is lot of cricket and lot of pressure already. Rohit had a lot on his plate and I am very happy that he is doing well," Ganguly added.
Taking charge with a stellar reputation, he led India to the 2022 T20 World Cup semi-final and the World Test Championship final. His leadership continues to draw praise, notably in the ongoing World Cup.
Last Updated on November 11, 2023