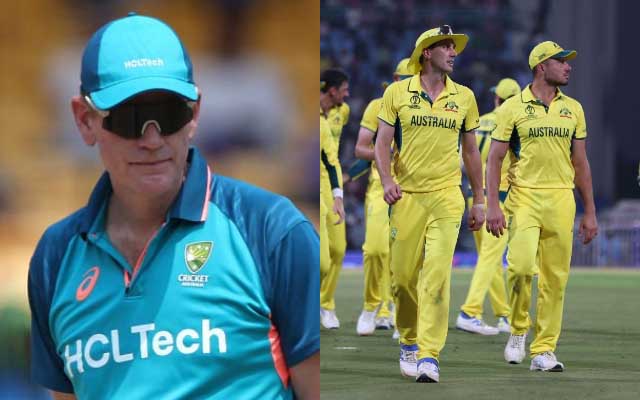 Andrew McDonald maintains faith in a swift turnaround despite Australia's players being "stunned" by two below-par performances.
Coach Andrew McDonald stands by the existing 14 players in Australia's World Cup squad, opting not to introduce new faces despite their dismay over two significant early defeats. Wicketkeeper Alex Carey's absence highlighted middle-order issues in the loss to South Africa, and selectors retain the choice to bring in another player, considering Travis Head's injury recovery back in Adelaide.
Despite Glenn Maxwell's 2-34 off 10 overs and the positive news of Travis Head's scan results, Australia endured their worst-ever World Cup defeat. Coach McDonald maintains "great trust" in the 14-player squad to reverse their recent poor form spanning eight ODIs and kickstart their World Cup campaign against Sri Lanka on Monday at the same venue.
"They're quality players and they're proud of their performance and they will respond. They're pretty stunned, I think. They sit there, there's a lot of silence in the room and our job is to regroup and get moving towards Sri Lanka.That's not a true reflection on our team. We're focused on what we've got there and there's quality skillsets … not performing the way that we would like," the coach said when speaking to the reporters post match.
"We always believe that it will turn around..We'll have a chat about it, and we've got to trust the playing skills in the sheds to be able to get the job done and I truly believe that is the case," he added.
Australia welcomes a fresh opponent in Lucknow for Monday's match, relieved to move past eight ODIs where issues like batting collapses, fielding lapses, and struggles to take wickets in Powerplays persisted. These problems extended into the World Cup, resulting in a 0-2 start and a second-to-last standing after the tournament's initial week, mostly due to South Africa and India's repeated exposure of these vulnerabilities.
Australia faces a daunting task in the quest for the World Cup, as no team has ever won the tournament after losing their first two games.
Coach McDonald acknowledged the need for improvement and expressed intent to focus on self-assessment rather than external factors. He addressed concerns about a controversial DRS decision but also accepted the team's average performance, particularly in the middle phase of the game. Batting, bowling, and fielding all showed room for progress, with six dropped catches proving costly. With seven games remaining, Australia aims to bounce back, starting with the Sri Lanka match, understanding the challenge ahead.
"It's pretty clear, the equation's simple, seven more matches left and there's a potential that we might have to win all seven," McDonald concluded.
Last Updated on October 13, 2023