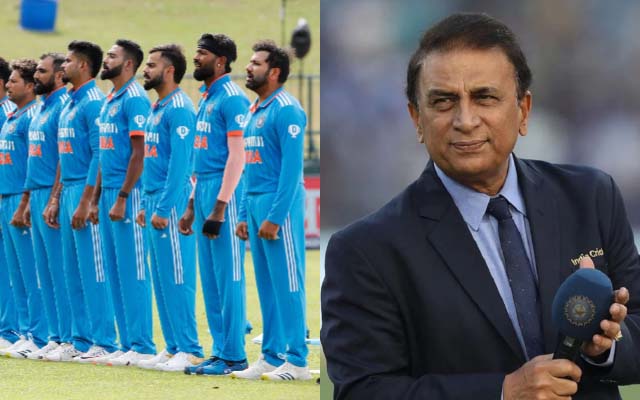 Sunil Gavaskar, the renowned batting legend, has revealed his choice of players for India's playing XI in the upcoming World Cup opener against Australia.
India is set to kick off their ICC World Cup 2023 journey on October 8 in Chennai, facing off against Australia. The teams recently clashed in a three-match ODI series, serving as their last-minute preparations for the grand event.
India made a significant alteration to their final 15-man squad, with Ravichandran Ashwin stepping in to replace the injured Axar Patel, who had initially secured a spot but unfortunately had to miss out on the tournament.
Renowned batsman Sunil Gavaskar has unveiled his chosen Indian playing XI for the World Cup opener against Australia. His lineup features a trio of seamers and includes the spin duo of Ravindra Jadeja and Kuldeep Yadav.
"In any team, the top-three batters are quite important. A good start from the openers helps the others that follow to play freely. The contribution from the opening pair is going to crucial," Gavaskar said when talking on Star Sports.
"You may pick three fast bowlers – Mohammed Shami, Mohammed Shami and Jasprit Bumrah. If they want to go with two seamers since they already have Hardik Pandya then an extra spinner can be included. You can have Ashwin in the eleven," he added.
Irfan Pathan concurred with the composition of the top-seven Indian batsmen but stressed the necessity of deploying a five-pronged bowling attack due to the potential challenges posed by dew in night matches during the World Cup.
Pathan emphasised, " I agree with the top-seven. I want the Indian team to go with proper five bowlers," Pathan said. "You have Hardik as sixth bowler but you should go with bowlers having wicket-taking abilities. The pitches you will get now, there's a possibility of dew so then you need to have a solid bowling throughout the world cup."
"So go with main bowlers be it three fast bowlers that include Siraj, Shami and Bumrah. If you want someone to team up with Kuldeep Yadav then go with a proper bowler in Jadeja if it's on a turning track. Go with proper bowlers who only think about wickets. Your top-7 batters can take care of the runs," he further explained.
Gavaskar's Choice of Playing XI: Rohit Sharma, Shubman Gill, Virat Kohli, Shreyas Iyer, KL Rahul, Hardik Pandya, Ravindra Jadeja, Kuldeep Yadav, Mohammed Shami, Mohammed Siraj and Jasprit Bumrah.
Last Updated on September 29, 2023