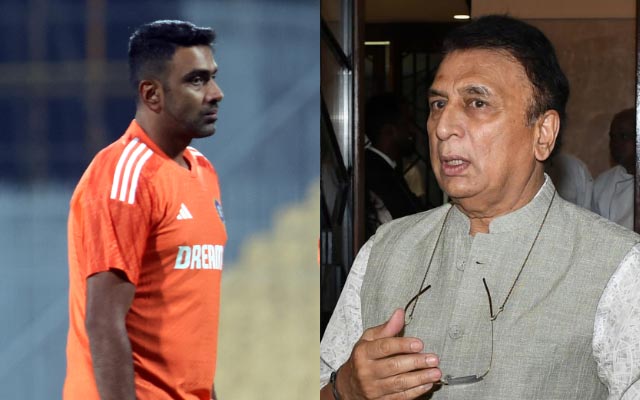 Legendary cricketer Sunil Gavaskar supports off-spinner Ravichandran Ashwin's inclusion in the 2023 India-Pakistan World Cup clash, emphasizing Ashwin's mental challenges to the opposition.
Sunil Gavaskar, the legendary cricketer, has endorsed off-spinner Ravichandran Ashwin's inclusion in the marquee clash against Pakistan on October 14 in Ahmedabad. Despite being out of the ODI scene since January 2022, Ashwin's remarkable performances in the recent Australia series, including a 3/41 in the second ODI, and his solid outing in the World Cup opener against Australia with figures of 1/34, have earned him Gavaskar's support.
Ashwin also has an impressive ODI World Cup track record, claiming 18 wickets in 11 matches at an average of 25.38 and an economy rate of 4.27 runs per over.
During a pre-match discussion on India Today, Sunil Gavaskar highlighted Ashwin's ability to challenge batsmen mentally with his intelligent bowling. Gavaskar emphasized that Ashwin's value goes beyond his off-spin; he can maintain pressure on the opposition.
Speaking on India Today in the build-up to the monumental clash, Gavaskar felt the Tamil Nadu spinner tests the batters mentally with his clever bowling.
"I'm not saying just because he is an off-spinner who will turn the ball against the left-hander, but Ashwin is clever. Ashwin tests you mentally as well. And I would want to have him in the team because he can keep the pressure. If needed at number 8, he can give you those 20-30 runs and have a partnership to make a difference," said Gavaskar.
Both teams, India and Pakistan, come into the contest with perfect World Cup starts, having triumphed over Australia and Afghanistan, as well as the Netherlands and Sri Lanka, respectively.
Sunil Gavaskar advocated for Ravichandran Ashwin's inclusion in Team India, primarily due to the presence of 28-year-old Saud Shakeel in the Pakistani lineup. Shakeel has displayed his batting prowess this year, with a crucial 68 in Pakistan's World Cup opener against the Netherlands and a rapid 31 from 30 balls in their remarkable run chase against Sri Lanka. In Test cricket, Shakeel has been on a remarkable record-breaking run, boasting an astonishing average of 87.50. His exceptional performance includes two centuries and six half-centuries in just seven matches.
Gavaskar emphasized that Shakeel's left-handed batting style makes Ashwin a valuable asset in handling the middle overs, labeling him as the "clever bowler" needed to counter Shakeel's skills.
"I'll pick Ashwin for the simple reason that there is Saud Shakeel in the side. He is in the middle order now and he is the kind of player who can taken Pakistan from a dire situation to a safer spot. He is the guy against whom you need a clever bowler," the former cricketer said.
Team India will seek to uphold their perfect ODI World Cup record against Pakistan, having secured victory in all seven past encounters.
Last Updated on October 14, 2023