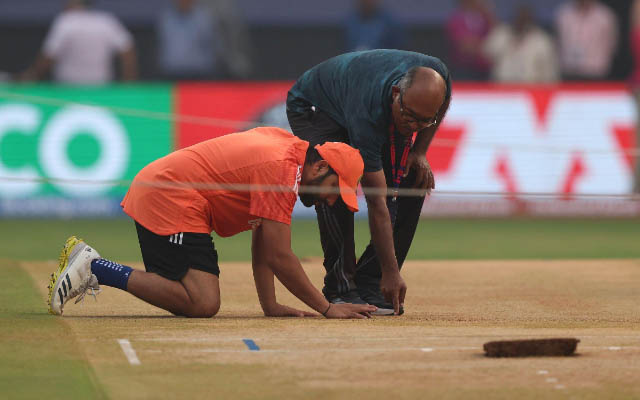 The India vs New Zealand 2023 ODI World Cup semi-final in Mumbai has been shifted from a fresh Pitch 7 to a used Pitch 6, marking an unexpected deviation from the initial pitch allocation.
The India vs New Zealand semi-final in Mumbai will take place on a used pitch, contrary to the earlier plan to use a fresh surface. Pitch 7, initially set for the game and unplayed throughout the tournament, was replaced by Pitch 6, which has already seen two matches. This sudden alteration goes against the predetermined pitch rotation at Wankhede Stadium.
The decision came late and adhered to the ICC norms, as there's no mandate stipulating that knockout games must occur on unused pitches. Per ESPNcricinfo, the responsibility for pitch selection and preparation lies with the Mumbai Cricket Association (MCA), guided by ICC's independent pitch consultant, Andy Atkinson, working alongside local groundstaff as per World Cup regulations.
This change from the initially assigned fresh Pitch 7 raises concerns about deviations from pre-set plans. The Daily Mail reported frustrations from Atkinson, over alterations made contrary to the initial agreements during the tournament. A leaked email hinted at doubts about the pitch selection for the final in Ahmedabad, pondering if it would be the first ICC Cricket World Cup final with a pitch chosen specifically due to requests from team management or the home nation board.
Despite no ICC mandate for knockout matches on fresh pitches, their Pitch and Outfield Monitoring Process emphasizes venues providing the best possible conditions for scheduled matches. In the 2019 ODI World Cup in England, the semi-finals occurred on fresh pitches, unlike last year's T20 World Cup where both semi-finals were played on used pitches.
Ahead of the India vs New Zealand clash, players from both teams examined the Wankhede pitch before it was covered by ground staff during India's training.
Last Updated on November 15, 2023