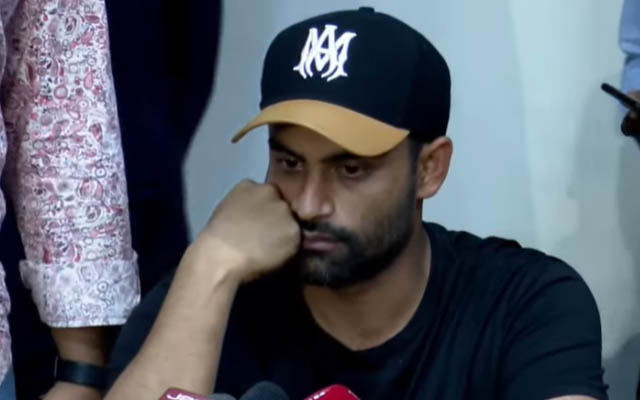 In a shocking development, Tamim Iqbal, the ODI captain of Bangladesh, has taken the cricketing world by storm with his unexpected retirement from international cricket, just a mere three months before the highly-anticipated World Cup commences in India.
Putting an abrupt end to his 16-year international career, Tamim's emotional announcement took place at a press conference held in Chattogram on Thursday, following Bangladesh's defeat to Afghanistan in the first of three ODIs.
"This is the end for me. I have given my best. I have tried my best. I am retiring from international cricket from this moment. I don't have much to say. One thing I will definitely say is, I tried my best. I did try my best. Maybe I was not good enough or good enough. I don't know. But I tried my 100% whenever I was in the field. I want to thank all my teammates, coaches, BCB officials, my family members, and those who have been with me through my long journey. They kept faith in me. I also want to thank the fans. Your love and faith in me inspired me to give my very best for Bangladesh. I want to ask for your prayers for the next chapter of my life. Please keep me in your prayers." expressed a tearful Tamim.
The 34-year-old skipper announced his retirement from T20Is around the same period last year. His unexpected decision leaves the Bangladesh Cricket Board yet to announce his successor.
Tamim, who made his debut as a promising teenager back in February 2007, leaves an indelible mark on Bangladesh cricket, scoring 8313 runs including 14 centuries in the ODI format, the highest in the nation's history. Under his guidance, Bangladesh secured direct qualification for the upcoming World Cup in India. 
With an impressive tally of 5134 runs, he also stands as the second-highest run-scorer for Bangladesh in Test cricket.
Tamim Iqbal's abrupt retirement is sure to cast a formidable shadow over Bangladesh cricket, leaving a void that will be challenging to fill.
Last Updated on July 6, 2023