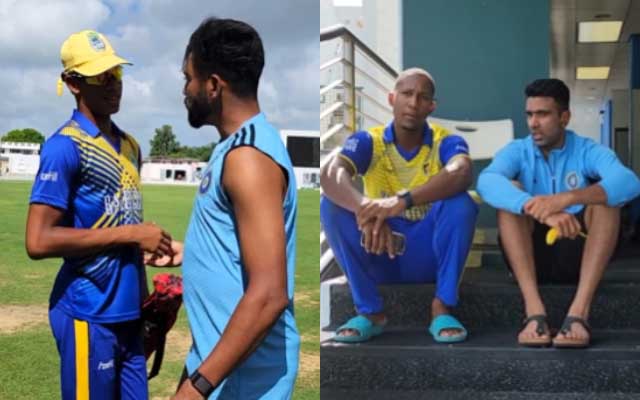 In a touching display of sportsmanship, the Indian cricketers, presently in Barbados to prepare for the highly anticipated first Test against the West Indies on July 12, took time out to connect with local cricketers and fans. With smiles all around, the Indian cricket stars engaged with the young players, generously sharing insights and experiences while capturing unforgettable moments through selfies and signing autographs.
A video released on the BCCI's Twitter handle captured these special moments when Indian Players made the day of local players and fans with their kind gestures. 
In the video, Indian pacer Mohammed Siraj expressed his gratitude, saying, "For two days, they are helping us practice. They even went off the field and helped us find the balls which had gone out. They helped us a lot and it felt really nice."
The spirit of mentorship continued as Ishan Kishan exchanged tips and captured memorable moments through selfies with aspiring young talents. Notably, veteran spinner Ravichandran Ashwin sat down with a local player, generously sharing his insights and valuable advice. The young player expressed sheer delight in receiving valuable tips from the experienced cricketer.
Meanwhile, captain Rohit Sharma and emerging talent Ruturaj Gaikwad fostered bonds, clicking photos and creating memories with local cricketers.
The fans' devotion did not go unnoticed, as Virat Kohli graciously signed autographs, acknowledging their unwavering support.
Kind gestures 👌
Autographs ✍️
Selfies 🤳
Dressing room meets 🤝#TeamIndia make it special for the local players and fans in Barbados 🤗 #WIvIND pic.twitter.com/TaWmeqrNS6

— BCCI (@BCCI) July 7, 2023
Amidst great anticipation, India embarks on their much-awaited tour of the Caribbean, signifying their return to the island after a remarkable undefeated streak across formats in 2019, guided by the exceptional leadership of Virat Kohli. With the ODI World Cup on the horizon, eagerly awaited in India in less than 100 days, the Rohit Sharma-led side seeks to fine-tune their cricketing prowess across two Tests, three ODIs, and five T20Is.
However, it is the Test series commencing on July 12 in Dominica that carries even greater weight, as it marks India's first appearance since their defeat against Australia in the 2023 World Test Championship Final, their second consecutive loss in the prestigious event.
Last Updated on July 7, 2023