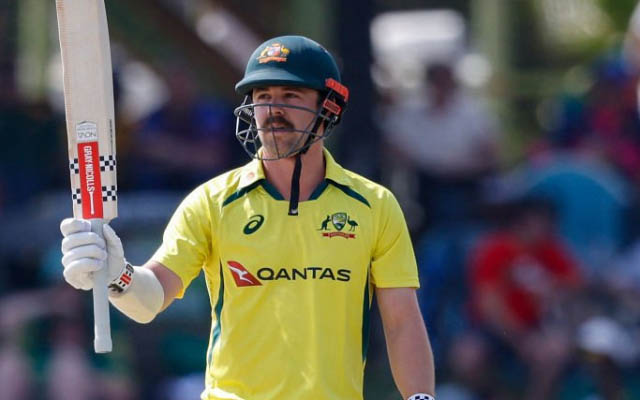 Travis Head, with the cast removed from his healed fractured hand, has resumed net practice sessions in Australia, before potentially rejoining the Australian squad in India.
Australia's Travis Head, aiming for a comeback in the latter part of next week, aspires to boost his team's struggling World Cup campaign. After fracturing his hand in South Africa last month, he returned to net practice this week following the removal of his cast. While he could potentially feature for Australia against the Netherlands on October 25, travel logistics and complete recovery pose some delay.
Choosing not to undergo surgery, which would have meant a ten-week recovery, Head has made quicker progress than expected. ICC has also officially announced on the microblogging site "X" that Travis Head is scheduled to rejoin the squad. As per information from cricket.com.au, Travis Head has undergone additional throwdown sessions in the practice nets and is set to depart for India this Thursday.
Travis Head is set to travel to India to join the Australian team at #CWC23 🙌https://t.co/o8QSifFkSX

— ICC (@ICC) October 15, 2023
"It's coming along well and probably better than we hoped," he mentioned to cricket.com.au.
"Going by that plan, the Netherlands game will be just under six weeks from impact which is a pretty aggressive date so everything would have to go perfectly from here to make that deadline. But we'll just see how it progresses over the next few days and I'm excited by the prospect of joining the boys over there later in the week," he added.
Australia's World Cup squad was initially limited to 14 players for the first segment of the tournament. However, Travis Head's injury prompted the inclusion of Marnus Labuschagne, replacing Ashton Agar. The team is currently fielding a single spinner in Adam Zampa.
Head, who boasts an impressive average of 60.84 since his ODI return last year, is missed, with former captain Aaron Finch highlighting the impact of his absence. Australia's batting unit has struggled, with no player achieving a half-century, and scores of 199 and 177 in two matches. Head's return for the Netherlands match remains uncertain, given the challenge of performing with a fractured hand.
In their upcoming match against Sri Lanka, Australia faces a crucial must-win situation, and a defeat could potentially necessitate Travis Head's return to bolster the team, considering the challenging road to securing a spot in the semifinals.
Last Updated on October 15, 2023