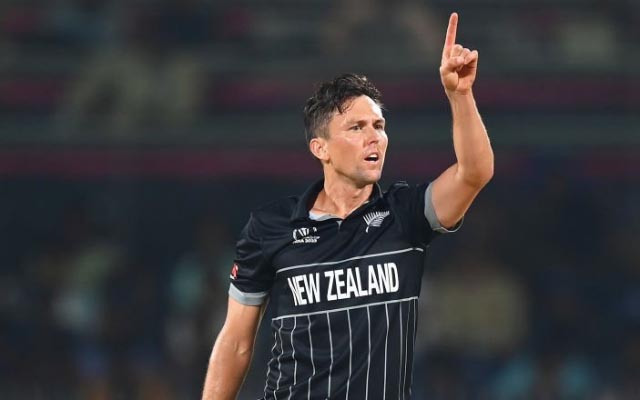 Trent Boult, ahead of the highly anticipated clash in Dharamsala, acknowledged India as a formidable and well-rounded team but expressed New Zealand's enjoyment in facing them.
New Zealand fast bowler Trent Boult shared his thoughts on the upcoming challenging encounter with India in the World Cup, set to take place at Himachal Pradesh Cricket Association Stadium in Dharamsala on October 22. With both New Zealand and India maintaining unbeaten records in the tournament, Boult emphasized the need for a positive mindset and sticking to effective strategies. He acknowledged India's strengths, stating that they cover all aspects of the game, but mentioned that New Zealand has always enjoyed playing against them.
"They're a powerful team, they cover all bases. They've been playing some good cricket but it's been a team that we've enjoyed playing," Boult was quoted as saying by Reuters.
Boult also highlighted the familiarity of Kiwi players with Indian conditions, thanks to their participation in the Indian Premier League. He stressed that even in such familiar conditions, all players face pressure and the key is to maintain a positive approach. It's worth noting that New Zealand famously knocked India out of the 2019 World Cup in the semifinals.
"Nothing changes from our point of view really. It's about going out there and being positive and doing the things that work well. These guys are very familiar with the conditions but they feel pressure just as much as any other batsman or any other bowler. Both undefeated, I'm sure it will be a cracker," Boult said.
"Playing against India in India, it doesn't get much bigger than that," he added.
The historical track record between India and New Zealand in the ODI World Cup shows nine encounters, with India emerging victorious in three and New Zealand in five, while one match ended in a draw. A victory on Sunday would significantly enhance the chances of both teams reaching the semifinals in the current tournament.
Last Updated on October 21, 2023