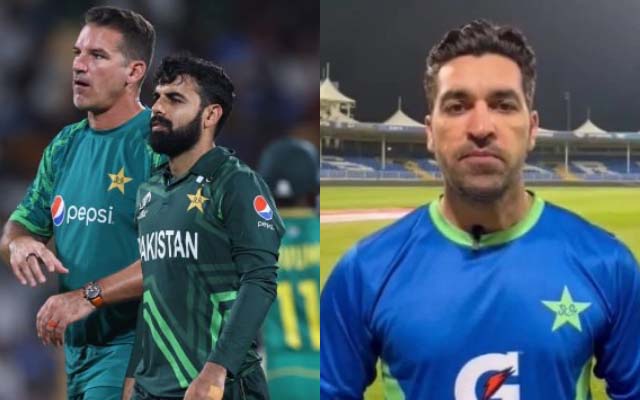 Umar Gul accused Shadab Khan of downplaying a non-serious injury and playing with the emotions of millions of Pakistanis during their ODI World Cup match against South Africa.
Veteran Pakistani fast bowler Umar Gul criticized all-rounder Shadab Khan after Pakistan's fourth consecutive defeat, suggesting that he doubted the severity of Shadab's injury during their ODI World Cup match against South Africa in Chennai. Shadab sustained a concussion while fielding during the Proteas' innings and was replaced by Usama Mir, marking the first-ever concussion substitute in World Cup history.
Gul noted that Shadab's visible support from the dugout in the later stages of the match raised questions about the seriousness of his injury.
"I don't think Shadab had a serious injury. When one or two wickets were left, he came out on camera to cheer and clap for the team. It just means that you are playing with the emotions of 24 crore Pakistani people. It is not funny," Umar said when speaking on a TV channel.
Shadab Khan displayed his batting prowess by scoring 43 runs, but during the South African innings, he suffered a head injury while attempting a diving stop. Initially, he left the field briefly but returned shortly thereafter. However, he was eventually substituted by Usama Mir.
Umar Gul expressed skepticism about the seriousness of Shadab's concussion injury, noting that he reappeared and had clear scans. While Usama Mir made valuable contributions by taking important wickets, Pakistan experienced a narrow one-wicket loss, severely diminishing their chances of reaching the World Cup semi-finals.
"He went off and after a while came back. His scans were apparently also clear. I think he took a route to escape from the pressure and action on the field," Gul alleged.
Former Test bowler Sohail Tanvir also echoed Umar Gul's concerns about Shadab Khan's concussion injury. Tanvir highlighted the uncertainty surrounding the injury's severity, as Shadab initially returned to the field but later left, raising questions about whether he could have continued playing.
"We don't know how serious this concussion injury was but the way Shadab first returned to the field then went back on whoever's advice… His presence in the dugout does make one wonder should he not have carried on playing. I know of players who have batted with broken hands and arms because it was necessary for the team," Umar said.
Last Updated on October 28, 2023