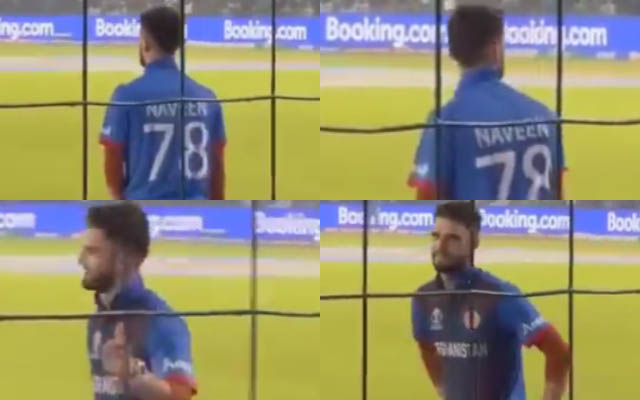 Amid a heartwarming moment, Naveen-ul-Haq responded with grace after fans, who had previously trolled him, chanted his name as a show of support during the England vs. Afghanistan match in Delhi.
Following an unpleasant IPL 2023 clash and a refusal to shake hands, India's Virat Kohli and Afghanistan's Naveen-ul-Haq seemed to put their differences behind them in just one match. Earlier this year, they were involved in an on-field altercation. Despite attempts by Naveen-ul-Haq's IPL captain KL Rahul to mediate a conversation between the two, the tension lingered, with both players engaging in indirect social media spats.
Naveen-ul-Haq also faced backlash from fans and was often taunted with chants of 'Kohli, Kohli.' However, during the ICC Men's Cricket World Cup 2023 match between India and Afghanistan, their first meeting since the incident, they surprised everyone by hugging and Kohli even requested the crowd not to tease Naveen-ul-Haq, signaling a reconciliation.
In a heartwarming turn of events during the England vs. Afghanistan match in Delhi on Sunday, Naveen-ul-Haq received an unexpected warm welcome from the crowd. Following a turbulent encounter with Virat Kohli that led to trolling, Naveen-ul-Haq was pleasantly surprised when fans chanted "Naveen bhai, Naveen bhai" upon his appearance. A viral video captured the special moment, showcasing not just the chants but also the bowler's reaction. Upon hearing his name cheered by the fans, Naveen-ul-Haq turned around with a bright smile, and he expressed his gratitude with a sweet gesture.
Delhi crowd chanting "Naveen Bhai, Naveen Bhai" and he showed a beautiful gesture in return.

– This is a huge impact of Kohli among cricket fans….!!!!pic.twitter.com/F0Y1yuaa8i

— Johns. (@CricCrazyJohns) October 17, 2023
In Afghanistan's historic World Cup victory against England, Naveen-ul-Haq played a pivotal role, notably by claiming the crucial wicket of England's captain, Jos Buttler, contributing significantly to their 69-run win.
Last Updated on October 17, 2023