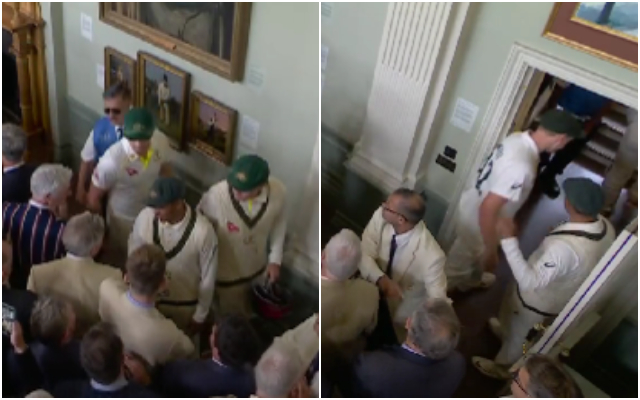 A startling and dramatic incident sent shockwaves through the Ashes on Day 5 as players, en route to the dressing room during the interval, found themselves entangled in an unexpected turn of events. Usman Khawaja, an Australian cricketer, was accosted by a few spectators in the Long Room, the most eminent stand in The Lords, resulting in a brief but intense exchange of words.
With England stepping in to chase a formidable target of 371 runs in the second innings, the match took a bitter turn for the English fans. Their discontent grew when Jonny Bairstow, a key batsman, fell victim to a disputed dismissal. Bairstow carelessly strayed from his ground after evading a bouncer from Australian fast bowler Cameron Green, resulting in wicketkeeper Alex Carey executing a quick stumping with an under-armed throw. Bairstow, believing he had secured his ground by tapping his bat behind the crease, was left dismayed as the decision was referred to the third umpire, Marais Erasmus.
To the disappointment of the English fans, Erasmus ruled Bairstow out, inciting the crowd to unleash their frustration through chants of 'Same old Aussies, always cheating.'
As the players made their way through the iconic Long Room towards their dressing room, they were met with boos and confrontational gestures from the pavilion members. Batsmen David Warner and Usman Khawaja were seen engaging in discussions with the disgruntled members. The incident escalated momentarily before a steward swiftly intervened, diffusing the tension but leaving spectators perplexed by the unusual occurrence.
The Australian management has since requested that the Marylebone Cricket Club (MCC) investigate the incidents involving spectators in the members' area, adding a layer of scrutiny to the incident.
Click through to watch the video.
Usman Khawaja was pulled back by security after speaking to one the members inside the long room 😳

🗣️ "I've NEVER seen scenes like that!" pic.twitter.com/2RnjiNssfw

— Sky Sports Cricket (@SkyCricket) July 2, 2023
PETES COMMENT- what an absolute disgrace from these over entitled pompous old #Lords pricks! The way they treated the #AustralianCricket team is absolutely disgraceful! Talking down to them! They should be banned for life! #Cricket https://t.co/Z0nUD9UNHy

— Marketing by Pete (@marketingbypete) July 2, 2023
Last Updated on July 3, 2023