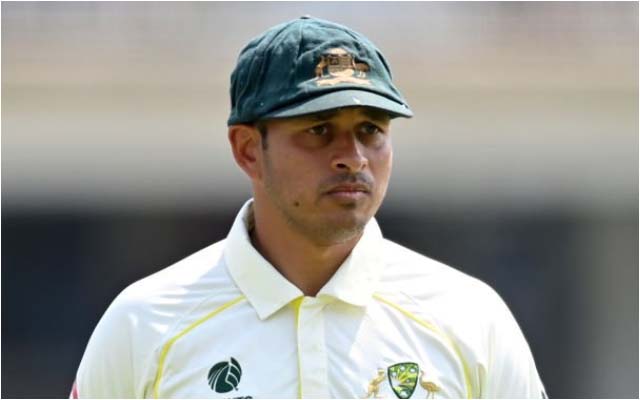 In a bold move midway through the Ashes series, Usman Khawaja took on the role of a proactive advocate and directly approached the International Cricket Council (ICC) to ease the rigid over-rate and match fee penalties.
The ICC had recently implemented strict changes to over-rate sanctions, imposing heavy fines and deducting WTC points after the first Ashes Test between Australia and England. As Australia aimed to safeguard their WTC title defense, the ICC's recent announcement of these sanctions raised concerns within the Australian camp.
The penalties, which saw players fined 40 percent of their match fees and both teams docked two WTC points each due to a two-over shortfall at Edgbaston, had the potential to be even more severe after the Lord's Test. This outcome could have dealt a blow, reminiscent of Australia's exclusion from the 2021 WTC final due to a similar over-rate violation during the 2020 Boxing Day Test.
Faced with dissatisfaction from both Australia and England, Usman Khawaja directly contacted the ICC's general manager Wasim Khan, which led to rule changes after a chief executives' conference.
Revised ICC rules scrap over-rate penalties for innings under 80 overs (previously 60 overs) and limit match fee fines to 50 percent, providing relief to players.
In contrast, following the WTC final, Indian players lost their entire match fee, while Australia's victorious title bid was reduced by an 80 percent fine deduction.
"I was pretty frustrated with what was happening," expressed Usman Khawaja in an interview with Manchester on Sunday. He revealed he felt compelled to address the issue directly with the ICC as an Australian Cricketers' Association (ACA) Board member.
Further, Khawaja highlighted the dismay of playing high-quality, entertaining matches, including the highly-watched WTC final, only to face 80 percent match fee fines. "Just really frustrating as a player. You are giving it your all out there, providing entertainment, then you are getting stung for it. Just felt like I needed to speak and Wasim was really good."
The recent changes to over-rate penalties are retrospective, but there is still uncertainty for Australia as it remains unclear if their two-point World Test Championship (WTC) penalties from the Edgbaston Test, currently displayed on the ICC's website, will be retained.
"You've got laws and rules. They've been there for a very long time. Sometimes you just have to look back on them and see if you need an update a little bit," Khawaja told Cricket.au, highlighting the need for a reconsideration of the current regulations.
"We are trying to go as fast as we can. It's the conditions that make it hard for us. If you are in India, we are never behind the over-rate with two spinners going at it."
The skipper also expressed his frustration, especially when results were achieved in the matches despite over-rate concerns. "We were getting results, that's what was frustrating. I think England were frustrated with it, too," he said, acknowledging the shared sentiment among players.
Further, Khawaja commended Wasim Khan for being receptive to players' feedback and finding a compromise. "Wasim Khan actually listening to the players, getting the feedback, and finding the compromise, it's the first time I've been involved that something like that has happened at ICC. I think it's a really good step forward."
Last Updated on July 17, 2023