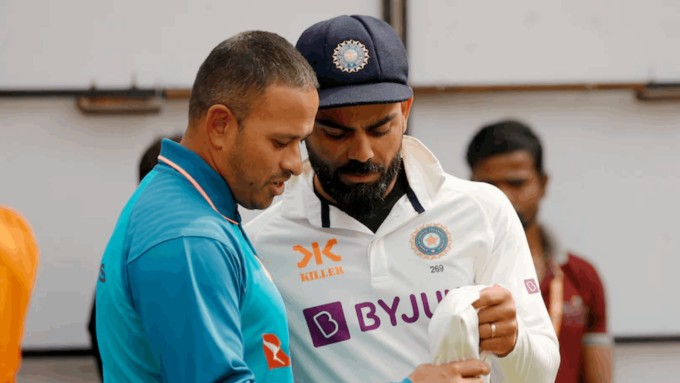 Ahead of the 2023 World Cup, Australian opener Usman Khawaja has openly expressed his heightened enjoyment in watching Virat Kohli play.
Usman Khwaja has openly embraced his admiration for Virat Kohli's game, particularly applauding the diverse facets of his personality. Nevertheless, Khawaja also observed that Kohli's on-field temperament has mellowed significantly since starting a family.
Despite being one of the era's standout all-format players, Kohli has been known for his animated on-field demeanor. Throughout his career, the 34-year-old has engaged in heated on-field exchanges with various international stars, including David Warner, Steve Smith, James Anderson, and James Faulkner.
In an interview with Fox Cricket, Khawaja shared his insights on the evolving dynamics of Indian cricket, attributing much of the change to Virat Kohli's influence. He noted that the younger generation of Indian cricketers approaches the game with a distinct style, combining respect with an unwavering competitive spirit.
"When I watched them as a kid, (India) always seemed very placid … but the younger generation plays it differently. They play the game still respectfully, but they're not afraid to back down from a fight. Particularly when Virat Kohli was captain, he brought that in," he said.
Khawaja further acknowledged that, over time, Kohli has toned down his fiery competitiveness, perhaps owing to fatherhood and starting a family.
"I enjoy watching him play more than ever now because he still plays it hard, but he also has a joke on the field, even when we play against him. He's calmed down a little bit, maybe it's having a child and starting a family, but this is probably my most enjoyable Virat Kohli in my opinion, because he's still a gun."
Khawaja further emphasized that while everyone relishes watching and competing against India, the joy of defeating them remains equally cherished.
According to Usman Khawaja, any minor misstep could spell disaster for India's campaign, underlining the immense pressure they bear as a team with the world's most devoted fan base. He emphasized that the constant scrutiny and expectations place India under unparalleled pressure, making them vulnerable to a swift shift in fan sentiment if they face setbacks.
"When the pressure cooker comes later on in the tournament when it's knock-outs, or even at the start, if something doesn't go right, they're going to have a lot of pressure on them, so they're going to have to do everything right," he added.
Last Updated on October 4, 2023