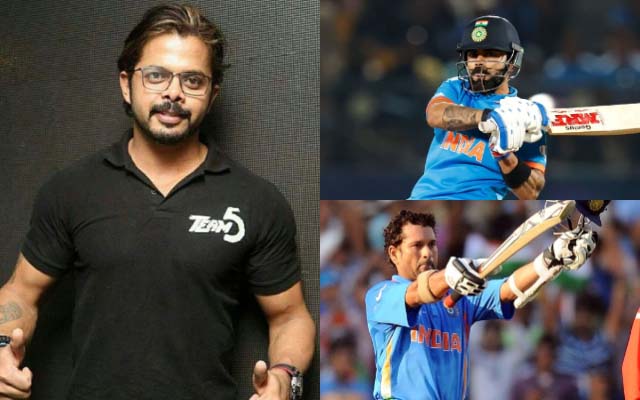 Sreesanth asserted Sachin Tendulkar's potential for 200 centuries in today's cricket, emphasizing how Virat Kohli and Tendulkar cannot be compared considering the varying bowling standards.
Former Indian pacer S. Sreesanth has weighed in on the enduring debate of Virat Kohli versus Sachin Tendulkar, asserting that Kohli, though undoubtedly a modern cricket legend, should not be directly compared to the legendary Tendulkar. The ongoing discussion has gained traction as Kohli approaches Tendulkar's impressive record of 49 ODI centuries. Kohli was on the cusp of equalling this milestone but fell short when he was dismissed for 95 against New Zealand.
Sreesanth highlighted that while Kohli boasts remarkable stats across all formats, the comparison is challenging due to the vastly different bowling standards and challenges that each player faced in their respective cricketing eras.
"Very simple theory. Virat is a legend of the modern era. He has got a lot of records, but if we look at the standard of bowling, the one that Sachin faced and the one Virat is facing, there is a huge difference. The pressure situation is the same, but the quality of bowling… There are so many hundreds being scored even in the IPL. Virat cannot be compared with Sachin because the difference in the two eras is huge," Sreesanth said when talking to Sportskeeda.
Sreesanth also believes that it's not just the quality of bowlers Sachin Tendulkar faced, but also the contemporary wickets, coaching support, and modern cricket facilities that make a significant difference. He suggested that if Tendulkar had the advantage of today's pitches and resources, he might have scored 200 centuries instead of 100.
"If Sachin had batted on such wickets, he would have made 200 hundreds and not 100 hundreds. I am not saying anything against Virat, but he himself would accept that if so many matches were played back then in a year, add to it the support staff and facilities to keep yourself younger, you can never compare Sachin to Kohli," Sreesanth concluded.
Last Updated on October 29, 2023