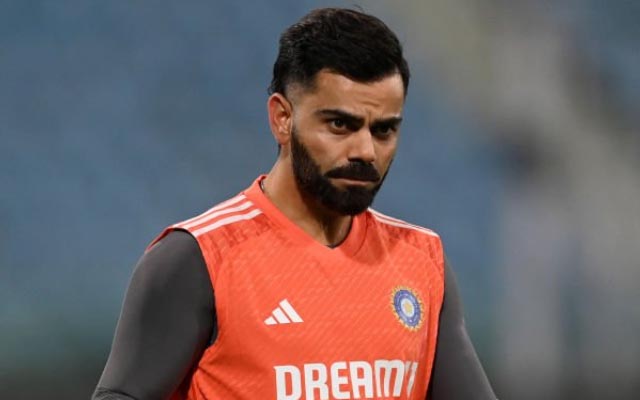 Virat Kohli expressed his eagerness to face England's pacer Mark Wood in the upcoming ODI World Cup match in Lucknow, highlighting his desire to test himself against Wood's formidable speed.
In anticipation of the much-anticipated ODI World Cup clash in Lucknow, Indian batting sensation Virat Kohli discussed England's cricket stars. England, the defending champions, are eager to revive their campaign in the tournament as they prepare to face the high-flying Indian team, the only undefeated side in the competition so far.
Currently, England is positioned ninth in the points table with just one win in five matches, making their chances of reaching the semi-finals extremely unlikely. To keep their slim hopes alive, they must secure victories in their remaining four matches while depending on other teams' outcomes.
When talking to Star Sports ahead of the upcoming match against England, Virat Kohli expressed his eagerness to face the fast bowler Mark Wood, highlighting Wood's formidable pace. Kohli also praised England's wrist spinner, Adil Rashid, as a challenging bowler and looks forward to facing him.
"Mark Wood, I have played against Mark Wood. I think he is a great bowler, he has skillset to trouble the batsmen, so I would like to test myself against real pace. Adil Rashid is a very underrated bowler and he has been doing amazingly well for England, a very challenging bowler that I am looking forward to play against," said Virat Kohli
Kohli also enjoys a strong record against Rashid in ODIs. He further commended Joe Root and expressed his desire to replicate Root's reverse slap shot in the future.
After a victory over New Zealand in Dharamshala, India has been practicing in Lucknow, aiming to maintain their winning momentum as they prepare for the highly anticipated clash on Sunday, October 22.
Last Updated on October 28, 2023