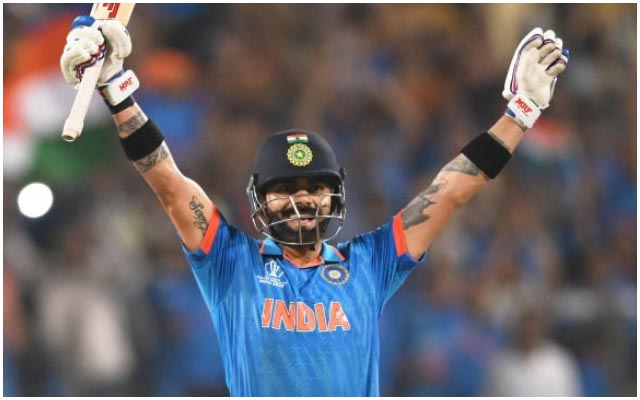 In his 31 Men's ODI World Cup appearances, Virat Kohli has notched up an impressive 1,384 runs at an average of 55.36, featuring three centuries and nine half-centuries, with a top score of 107.
Despite widespread doubts about his form and aggression, Virat Kohli has proven his resilience as the ultimate chase-master for India in the ICC World Cup. He's undergone a stunning ODI resurgence, amassing an impressive 354 runs in five matches, including a match-winning century and two more fifty-plus scores, anchoring India's unbeaten World Cup campaign.
As India prepares to face defending champions England on October 29, Kohli highlighted how his commitment to chasing betterment rather than settling for excellence fuels his determination to win matches for the team.
"I have always worked on how I can be better myself every day, every practice session, every year and every season. So, that is what has helped me play for this long and perform. I don't think it is possible to perform consistently without having that mindset, because if performance is your goal, then one can get satisfied after a while, and stop working on their game," Kohli said when speaking on the Star Sports show "Follow the Blues."
In his 31 Men's ODI World Cup appearances, Kohli has amassed a notable 1,384 runs with an average of 55.36, which includes three centuries and nine half-centuries, with a high score of 107.
Kohli's ethos centers on pursuing betterment, as he doesn't believe in a rigid definition of excellence with a finite limit.
"It has always been my motto to chase betterment I would say, and not excellence, because I honestly don't know what the definition of excellence is. There is no limit to it, nor there is a set standard that when you reach here you have achieved excellence. So, I try to work towards betterment every day, so that would be a better word to use. And yes, performance becomes a by-product, because your mindset is how do I make the team win from here," Kohli concluded.
Last Updated on October 25, 2023