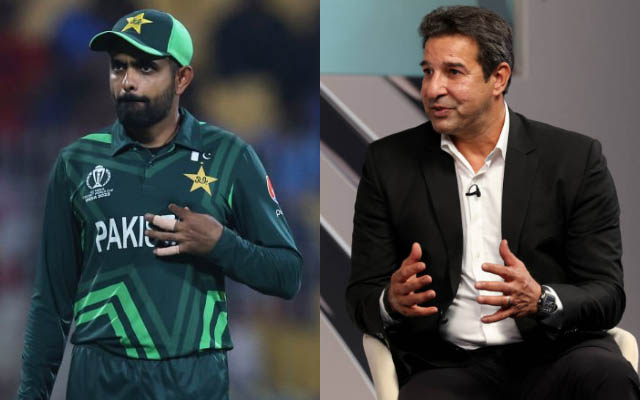 Former Pakistan captain Wasim Akram has offered guidance and support to Babar Azam as the Pakistan cricket team faces challenges, emphasizing the need for improved fitness and boosting the team's morale.
Amidst ongoing debates about the Pakistan cricket team's World Cup performance, the significant upset of an 8-wicket loss to Afghanistan at Chennai's Chidambaram Stadium has ignited controversy. This unexpected loss marked Afghanistan's first victory over Pakistan in the tournament and led to strong criticism from the cricket community. Former cricketer Wasim Akram criticized the team's fitness. However, as Pakistan prepares to face South Africa, Akram has offered support to the beleaguered team.
During a discussion on A Sports, a fan inquired about Babar Azam's approach in light of bowlers like Shaheen Shah Afridi and Haris Rauf not meeting expectations in their performance.
"Ab Babar bechara kya kar sakta hai (What can Babar do) when his bowlers are struggling? The only thing he can do is sit down with them and give a heap of confidence and as a nation, we should as well," Akram replied.
"We know that they had 3-4 bad games, they are having a problem with the new ball. But the skill and ability are there. They just need one good delivery or a good spell so that they have the confidence back," he added.
Akram also suggested that fast bowlers may lose pace due to reduced net practice, emphasizing the importance of off-season net sessions.
"I think, what I personally feel, is they bowl less in the nets. I know they are playing too much cricket but sometimes you need to bowl in the nets to brush up your muscles, not during the series but off-season. I can only give my example because I've played County Cricket for years where I had to play 17 games in a season so that impacted my performance," the former Pakistan captain said.
Wasim Akram further provided insights into Pakistan's preparations for their triumphant 1992 World Cup campaign, emphasizing Captain Imran Khan's leadership. He recalled how the team was dispatched to Australia nearly a month before the tournament to adapt swiftly to the conditions and attain top physical condition. Their rigorous training regimen commenced with ten laps of the ground, followed by extensive sessions involving fielding, bowling, and batting. This strategic preparation was a crucial element in their World Cup success.
Last Updated on October 26, 2023