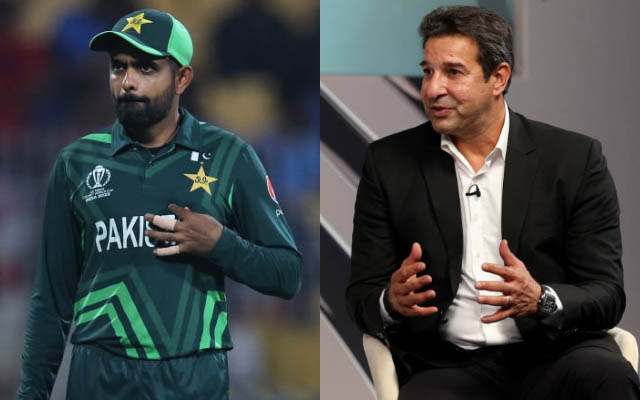 Wasim Akram strongly criticized Pakistan's lackluster performance after their unexpected loss to Afghanistan, highlighting concerns over players not undergoing fitness tests for the last two years.
In the 22nd match of the ODI World Cup 2023, Babar Azam's Pakistan experienced a disastrous defeat at the hands of Afghanistan at the MA Chidambaram Stadium in Chennai on October 23. The game's outcome left everyone in disbelief, as Afghanistan secured a dominant eight-wicket victory against Pakistan, pushing the latter down to fifth place in the tournament standings.
Following the loss, former fast bowler Wasim Akram criticized Pakistan's performance when speaking on a show for a Pakistani TV channel, singling out their fitness levels and fielding as 'embarrassing'. Akram highlighted that players hadn't undergone fitness tests for two years, raising concerns about their conditioning and dietary habits.
"It was embarrassing today. To reach 280-odd losing just two wickets is pretty big. Wet pitch or no, look at the fielding, the fitness levels," Akram said.
"We've been screaming for the last 3 weeks that these players haven't undergone a fitness test in the last two years. If I start taking individual names, their faces will drop. Looks like these guys are eating 8 kilos of mutton everyday. Should there not be tests?" he added.
In addition, Akram didn't mince words when addressing Pakistan's lackluster fielding performance against Afghanistan, which played a significant role in their defeat under the leadership of Hashmatullah Shahidi. He argued that since the players represent their nation and are compensated for it, there should be specific criteria or standards to uphold.
Drawing on the example of Misbah-ul-Haq's coaching tenure, Akram highlighted that despite the players' reservations, his structured approach yielded results. He also expressed concerns that the team had now regressed to a point where they relied on luck rather than structured preparation.
"Professionally you guys are getting paid, playing for your country. There has to be a certain criteria. Misbah, when he was coach, had that criteria. Players hated him but it worked. Fielding is all about fitness and that's where we are lacking, now we have reached that same position, where we will pray for ifs and buts to happen," Akram concluded.
Last Updated on October 24, 2023