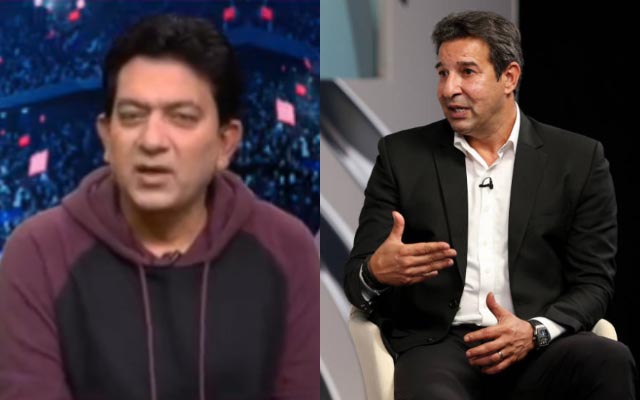 When discussing the allegations on A Sports, Wasim Akram dismissed the claims made by his ex-teammate, Hasan Raza, about Indian bowlers receiving special balls.
Former Pakistan cricketer Hasan Raza stirred controversy by calling for an investigation into the handling of cricket balls used by Indian players in the 2023 ODI World Cup matches. Raza's remarks followed India's 302-run win over Sri Lanka, during which he voiced concerns about ball treatment.
"Shayad ball be change ho jata hai second innings mein; jiss tareeke se ICC ball de raha hai, ya fir third umpire panel de raha hai, ya BCCI de raha hai; iska inspection hona chahiye (Perhaps the ball changes in the second innings; the way ICC is providing the ball, or maybe the third umpire panel is providing it, or BCCI is providing it; it should be inspected)," Raza said.
READ MORE | Hasan Raza Raises Concerns Over Ball Handling in India's ODI World Cup 2023 Matches
When speaking on A Sports, Wasim Akram dismissed these allegations made by his former Pakistan teammate regarding Indian bowlers being provided with special balls. Akram responded to the claims, saying, "I have been reading about it for the last couple of days. I want to have the same things these guys are having… sounds like fun. Mind is not there. You are not only embarrassing yourself but us too. Don't make fun of us in front of the world; please keep those insults to yourself."
The former Pakistan legend clarified the ball selection process, explaining that it involves both teams picking two balls each, and there's no room for conspiracy. He further refuted the idea of any device in the ball affecting its swing.
"The bowler picks two balls as per his preference. He then takes the remaining eight balls to the dressing room of the other team. They follow the same drill. He then hands over the balls to the fourth umpire, and all of this takes place in front of other match officials. There is no device in the ball. You can't swing the ball with a device," Akram continued.
Akram also suggested that the Indian bowlers might have improved their skills, and instead of criticizing, people should appreciate their performance. Fellow Pakistani cricketer Shoaib Malik chipped in saying, "When someone gets success, instead of praising that person, our first thought is negative. Instead of talking about the negative things we must learn from them."
Last Updated on November 4, 2023