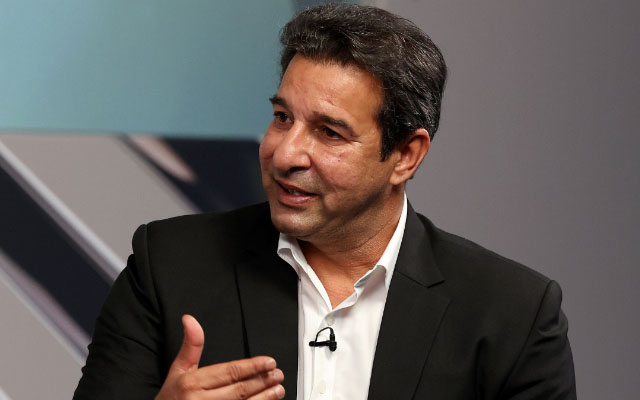 Wasim Akram's all-time combined India-Pakistan ODI XI, to be captained by Imran Khan, featured cricket legends such as Sachin Tendulkar, Kohli, Dhoni, Kapil Dev, Sehwag and Bumrah.
The left-arm pace maestro Wasim Akram has unveiled his ultimate India-Pakistan combined XI, with Imran Khan at the helm.
This team comprises six Indian and five Pakistani cricketing luminaries, with just two current players earning their spots. Akram's top-order choices feature Saeed Anwar partnering with Virender Sehwag, setting the stage for the iconic Sachin Tendulkar to follow.
"I will start of with a lefty from Pakistan Saeed Anwar. I think he got 19 ODI hundreds, not the best fielders but as a batter one of the best Pakistan has produced – an all-round player," he said when talking to Fox Cricket.
"I will pick Virender Sehwag to open with him. Again, a dashing player, one of my favourites. He changed the mindset of an opener in Test cricket. Before Sehwag, it used to be three slips and a gully – Sehwag started just whacking everyone, got a couple of triple-hundreds," he added.
Selecting Sachin Tendulkar for the number three position was a breeze for Wasim Akram, given Tendulkar's impeccable ODI record. However, the choice for number four proved to be a formidable task, with an array of high-quality options like Rohit Sharma, Babar Azam, Javed Miandad, Zaheer Abbas, Mohammad Yousuf, Misbah-ul-Haq, and Inzamam-ul-Haq.
Ultimately, Akram settled on Javed Miandad for his exceptional batting, situational awareness, and fielding brilliance during his prime.
"Number three, the great man, Sachin Tendulkar. Hundred international hundreds, can't go wrong. Number four is…. very difficult to pick. I have Mohammad Yousuf, Babar Azam, Javed Miandad, Zaheer Abbas, Misbah-ul-Haq, Inzamam-ul-Haq and another great from India – Rohit Sharma. It's difficult not to pick Rohit. But at four, I'm going to go with Javed Miandad because of the way batted and how he assessed situations and he was a gun fielder in his heyday," Akram said.
While assembling his dream team, Akram slotted Virat Kohli at number five, an undeniable selection. Imran Khan, the former Pakistan captain who led his team to an ODI World Cup victory in 1992, takes the number six spot as both a batsman and captain.
Adding to the star power, the legendary Kapil Dev, whom Akram reveres as his hero, completes the line-up at number seven.
Saqlain Mushtaq will take charge of the spin department, while the pace duo of Jasprit Bumrah and Waqar Younis will spearhead the fast-bowling attack.
Wasim Akarm's IND-PAK ODI XI: Saeed Anwar, Virender Sehwag, Sachin Tendulkar, Javed Miandad, Virat Kohli, Imran Khan (captain), Kapil Dev, MS Dhoni (wk), Saqlain Mushtaq, Jasprit Bumrah, Waqar Younis
Last Updated on October 4, 2023