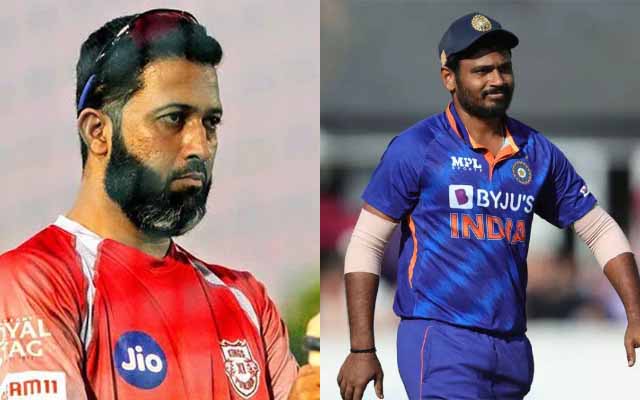 Former India opener Wasim Jaffer expressed surprise at Sanju Samson's exclusion from the middle order in India's playing XI for the 1st ODI against West Indies, as the team opts for Ishan Kishan. 
Despite India playing several bilateral series since November last year, Sanju Samson has remained out of the ODI squad, even after being picked for the white-ball leg of the ongoing West Indies tour. Even with the absence of Rishabh Pant and KL Rahul's recovery, the team management seems to favor Ishan Kishan as the preferred wicketkeeping option for the moment.
Jaffer believed that Ishan Kishan was being considered a backup opener due to the presence of Rohit Sharma and Shubman Gill as first-choice openers in ODIs, leaving room for Sanju Samson in the middle order. However, India surprised everyone by experimenting with their batting order in the first ODI, promoting Ishan Kishan to open with Gill and sending Rohit Sharma as low as No.7 to provide more game time to white-ball specialists ahead of the upcoming World Cup.
"Ishan Kishan is being viewed as a backup opener and a backup keeper, with the expectation that Sanju Samson would get a chance in the middle order. Hence, his exclusion is surprising," expressed Jaffer on ESPNcricinfo.
Despite Ishan's impressive double-century in ODIs, Samson boasts a remarkable average of 66 in 11 matches with a striking 104.76. Jaffer also raised the question of India's third opener, suggesting Ruturaj Gaikwad might be a potential option, but uncertainty remains as Ruturaj has been selected for the Asian Games.
"Who is that third opener? Probably Ruturaj Gaikwad but I don't know who, because Ruturaj has been picked in the Asian Games. Again, I don't know who that third opener is. I am a little surprised not seeing Sanju there, and I'm surprised at not seeing Axar Patel there, because I thought when Ravindra Jadeja wasn't available, he was really brilliant, with ball and bat. I feel going forward, India need to think about playing three spinners, because Jadeja and Axar can bat at 7 and 8, so I'm a little surprised, but I expected this," added Jaffar.
Last Updated on July 29, 2023