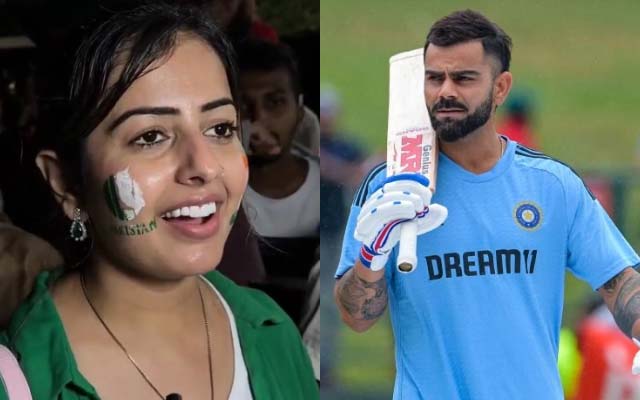 Surrounded by some Pakistan fans, a courageous girl stood up to a local baba who tried to stop her from supporting Virat Kohli and India, responding with a resolute message while proudly backing both teams.
Virat Kohli's brief appearance at the crease during the 2023 Asia Cup clash against Pakistan disheartened fans from all worldwide, including India and Pakistan. Despite hitting a splendid boundary through the cover region, the former India captain's seven-ball innings ended in dismay due to his uncertain footwork, as he edged an outside off-stump delivery onto his stumps, leaving even his cross-border admirers heartbroken.
After the match, a video featuring a Pakistani girl went viral, where she openly expressed her affection for the Indian superstar, even though she was surrounded predominantly by male Pakistani fans. Following Kohli's dismissal, while most Pakistani supporters reveled in their team's success, this girl was visibly heartbroken, a scene even broadcasted on the giant screen.
When questioned about her disappointment, she responded, "Because Virat Kohli is my favorite player. I came here especially to see him and watch him play. I was expecting a century from him, but I was left heartbroken."
An elderly man standing beside her, perturbed by her love for Kohli, attempted to question her loyalty to Pakistan, but she silenced him with a powerful comeback. "Chacha padosiyon se pyaar karna koi buri baat to nahi hei na (Uncle, loving your neighbors isn't a bad thing right?)," she retorted.
"I was supporting both Pakistan and India," she added, gesturing toward the national flags of both nations on her cheeks. Encircled by Pakistani supporters, the interviewer attempted to corner her, asking, "Who would you choose between Virat Kohli or Babar Azam?"
Without hesitation, she declared, "Virat Kohli," affirming her deep admiration for the former Indian captain. Despite the taunts from other Pakistani fans, she remained unperturbed, responding with a radiant smile.
A Pakistani baba stops this cute girl from loving Virat Kohli & India but this courageous girl gives a befitting reply to him and continues her support for Virat. Hats off to her.#INDvPAK #PAKvIND pic.twitter.com/9nh1M9FPbW

— Silly Context (@SillyMessiKohli) September 2, 2023
Last Updated on September 3, 2023