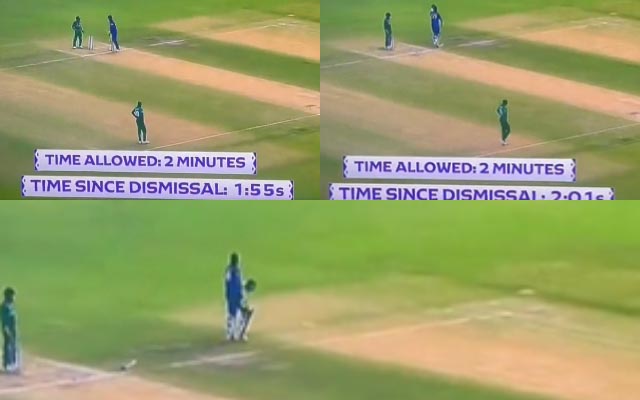 The 38th match of the ICC Men's Cricket World Cup was played at the Arun Jaitley Stadium in New Delhi on November 6. In the 25th over of the match between Sri Lanka and Bangladesh, Sri Lankan batter Angelo Mathews was timed out from the field by the umpire as he was believed to have failed to arrive at his position within 2 minutes of the Sadeera Samarawickrama getting out on Shakib Al Hasan's ball. The rules of the ICC demand that the new batter must reach the crease within 2 minutes of the last player getting out. The Bangladesh captain tried appealing to the umpire to no avail. And hence, the cricketing veteran who came in to bat at No. 6 had to depart after facing a single ball.
In his defence, Angelo Mathews posted a video on social media the day after the game with the caption: "I rest my case! Here you go you decide". The video displayed a timer that showed the amount of time taken by Mathews to get to the crease. The Sri Lankan batter made it to the crease in 1.54 minutes after Samarawickrama was dismissed. He can be seen walking in slowly, wherein he faced a problem with his helmet near his position. Mathews' dismissal was faced with harsh criticism from netizens online.
Cricketers and commentators took to social media to express their support towards Mathews.
India's former spinner Harbhajan Singh took to X to write: "Absolutely rubbish firstly asking Shakir and then the umpire giving Angelo Mathews out like that totally nonsense."
Gautam Gambhir also chimed in to express his disapproval by writing "Absolutely pathetic what happened in Delhi today!" on X.
This incident is the first of its kind in the history of international cricket. In the match between Bangladesh and Sri Lanka, Bangladesh successfully chased down a target of 280 runs, defeating Sri Lanka by three wickets with 53 balls to spare. As a result, Sri Lanka's hopes of progressing in the ICC Men's World Cup 2023 have come to an end.
Last Updated on November 8, 2023