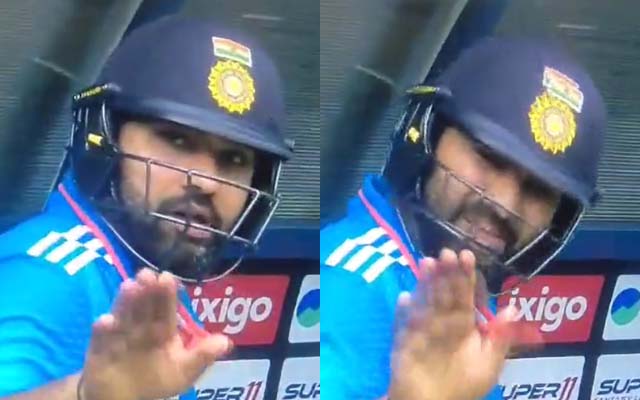 A visibly annoyed Rohit Sharma instructed the cameraman to cease filming as broadcasters attempted to capture his comments during the rain break from the boundary dugout.
The high-intensity showdown between India and Pakistan witnessed multiple interruptions due to rain during the initial innings on Saturday. The weather in Pallekelle appeared ominous with overcast conditions before kick-off, prompting the ground to be covered due to a slight drizzle.
However, just 13 minutes prior to the toss, the rain ceased and the covers were removed. Unfortunately, after only 4.2 overs, the rain reappeared, halting play with India at 15/0. During this rain delay, broadcasters attempted to interview Rohit Sharma in the dugout near the boundary line, but the Indian skipper, unimpressed and visibly irked, forbade the video recording, instructing them to lower the camera.
Rohit Sharma is asking camera man to stop filming him. 😂🫣

Credit – (Hotstar)#INDvsPAK #RohitSharma pic.twitter.com/tCTqi71NDZ

— 12th Khiladi (@12th_khiladi) September 2, 2023
The rain interruption proved advantageous for Pakistan as they swiftly claimed two crucial wickets upon resumption. Pakistan's premier fast bowler, Shaheen Shah Afridi, was instrumental in dismissing Virat Kohli and Rohit, significantly impacting India's stability.
WATCH | Asia Cup 2023: Shaheen Afridi's Magic Spells Trouble for Rohit Sharma and Virat Kohli
Initially, Rohit had shown promise, striking a couple of boundaries from Shaheen's deliveries. However, the rain break disrupted his rhythm. His score remained at 11 when play halted and when it recommenced, he was bowled by Shaheen on the fifth-over's final delivery, failing to add to his tally.
Rohit's bold decision to bat first, despite the looming overcast conditions, was driven by his desire for the team to confront the challenge head-on.
During the toss, the skipper stated, "We are going to bat first. There is a bit of weather around, but can't think much about it. Got to play good cricket, you need to embrace the challenge, embrace the situation. We had some time off after the West Indies series. Everyone was up for those drills and challenges in Bangalore. Let's see what we can achieve in this tournament. It's a quality tournament with quality oppositions. At the end of the day we need to see what we can achieve as a team."
Last Updated on September 2, 2023