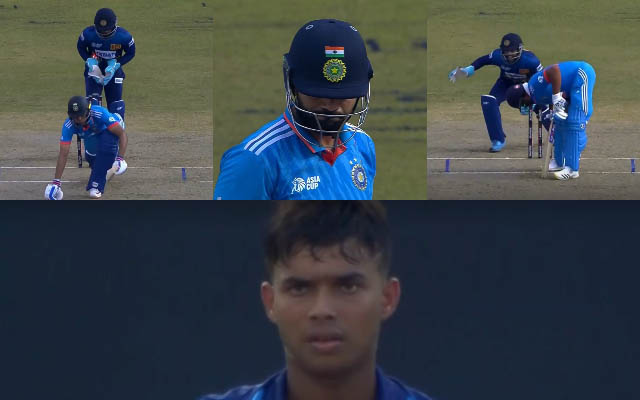 Dunith Wellalage, the 20-year-old Sri Lankan rookie, mesmerisingly ensnared India's dynamic top order, including Virat Kohli, Rohit Sharma, KL Rahul, Shubman Gill and Hardik with his elusive spin deliveries.
India's Asia Cup 2023 journey continued after a resounding 228-run victory over Pakistan. Facing Sri Lanka at Colombo's R.Premadasa Stadium on September 12, Rohit Sharma won the toss and chose to bat. Openers Sharma and Shubman Gill provided an 80-run start before Sri Lanka's Dasun Shanaka introduced left-arm spinner Dunith Wellalage, altering the game's course dramatically.
Gill cautiously began his innings, aiming to build on the solid foundation. However, he met an abrupt end in the 12th over when Sri Lankan spinner delivered a mesmerizing flighted ball from around the wicket. Gill, drawn into defense, was bewildered by the spin as the ball elegantly missed the outside edge and hit the off-stump's top. It was a spinner's dream delivery that could leave even seasoned batsmen in awe, according to R. Ashwin.
Following his stellar 122 against Pakistan, Virat Kohli stepped onto the pitch with high hopes. Facing Wellalage in a gripping contest, the spinner bowled four dot balls with precision. However, the fifth delivery changed the game. Wellalage went shorter, denying Kohli the pace for his flick shot. Instead, he chipped it to mid-wicket, where Danus Shanaka seized the chance. Kohli's exit, with just three runs added, was a crucial twist in the match.
Wellalage secured his third wicket in the 16th over, breaking through by dismissing a well-set Rohit Sharma. Departing from his usual deliveries, Wellalage surprised with an arm-ball, pitched slightly shorter. Rohit, unprepared, stayed back to counter it. But the ball didn't bounce as expected, eluding his bat's toe-end, and crashed into the leg-stump. Rohit left the field with 53 runs from 58 balls.
The drama continued as KL Rahul faced Sri Lanka's formidable bowling attack, but Dunith Wellalage's delivery induced an uncomfortable shot, leading to Wellalage taking Rahul's catch, dismissing him for just 39 runs.
Despite Hardik Pandya's attempt to rescue India from the crumbling wickets, Wellalage dismissed him, sending Hardik back to the pavilion.
Last Updated on September 12, 2023