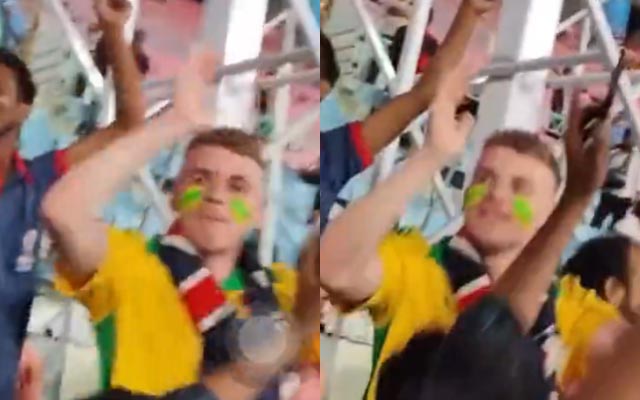 During the Australia vs. Sri Lanka ICC World Cup 2023 game in Lucknow, an Australian fan's enthusiastic 'Ganapati Bappa Morya' chant caught the attention of Desi cricket fans, gaining viral recognition.
Amidst the backdrop of the ongoing Cricket World Cup in India, fans have embraced the spirit of unity in unique ways. In a fun video that surfaced on social media platform X, fans from India were treated to a delightful surprise.
In a heartwarming moment at the Ekana Sports City Stadium in Lucknow on October 16, an Australian cricket fan became the center of attention during Australia's game against Sri Lanka. In a now-viral video posted on X, this spirited Aussie supporter was seen enthusiastically chanting Hindi slogans, joining in with the enthusiastic home crowd.
With full gusto, the Australian fan shouted phrases like 'Ganapati Bappa Morya,' 'Bharat Mata ki Jay,' and 'Vande Mataram.' This cheerful incident has become a testament to the incredible bond that cricket creates among fans.
Australian fan shouting "Ganpati Bappa Morya.… Bharat Mata ki Jay… Vande Mataram" 🤩🇮🇳

– Fantastic Video 🏏💙#AUSvSL #AUSvsSL #CWC23 pic.twitter.com/Ppfha5JSdg

— Ishan Joshi (@ishanjoshii) October 16, 2023
The video has sparked a range of reactions. Some fans playfully attributed Australia's win to his chants, saying, "That's why they won." Others expressed their joy in seeing fans fully immersed in the moment. Many appreciated the Australian fan for embracing Indian culture. And for a touch of humor, one fan humorously noted the resemblance between the Australian fan and English cricketer Sam Curran.
India's 2023 World Cup journey has been smooth, but Australia, a five-time champion, faced early setbacks with two losses in their first games in India.
Sam Curran wearing Australian Jersey and chanting Ganpati Bappa Morya . Power of Lord Ganesha. 🤣🤣

— Bargav Rangan (@animeshwar) October 17, 2023
Last Updated on October 17, 2023