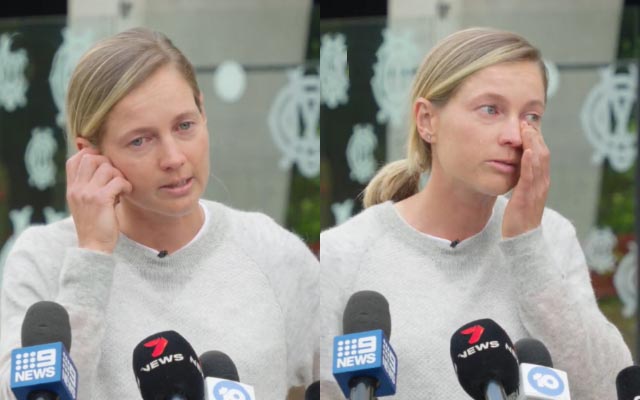 After a gradual realization spanning 18 months, Australian cricket star Meg Lanning made the emotional decision to step away from international cricket.
Australian cricket star Meg Lanning announced her retirement from international cricket, describing the decision as a gradual process that took shape over 18 months. In recent weeks, she attempted to reignite her passion for the game but found it impossible. At 31, she realized she had given her all to her country over 13 years and achieved everything she could at the highest level. Tearfully, Lanning shared that she had contemplated this move for some time, thanking her family for their unwavering support in a press conference outside the MCG.
"Realistically, it's something I've been thinking about for a while. I've come to the realization that I've probably been trying to convince myself a little bit over the last 18 months why I should keep playing and what it is that I want to achieve. But it became quite clear, particularly in the last couple of days, that this was the right call and what I'm ready for … it's time," Lanning said.
"I tried to make it work, I took some time to step away a little bit and be outside the cricket bubble … and that's given me the opportunity to think about what else is out there. (Cricket's) all I've ever known really for 13 years, and I've given everything to being as good as I can to help the team win. Now it's time to focus on myself and to go and see what else is out there. And what that is, I'm not sure," she continued.
Emotional scenes at the MCG as Meg Lanning reflects on a peerless 13-year career in international cricket 🥺 pic.twitter.com/MCdkQcHGXI

— cricket.com.au (@cricketcomau) November 9, 2023
Lanning's 13-year career in Australian cricket was a remarkable journey, winning numerous awards, including seven World Cups, Ashes series victories, and Commonwealth Games gold. As captain for nearly a decade, she set records for the most runs by an Australian woman.
Lanning further expressed uncertainty about her future endeavors, revealing no interest in a potential path to a commentator's role. She plans to continue playing domestically for Melbourne Stars and Victoria, and she'll also participate in the Women's Premier League with Delhi Capitals for the 2024 season.
"I certainly haven't got anything worked out … but now I've got the freedom to go and explore different things and see what pans out. (I'm feeling) excitement, it's scary, too. There's so much structure in cricket, you know where to be all the time, your weeks are planned and you don't really make a lot of decisions for yourself," she said.
Throughout her illustrious career, Lanning's journey has been marked by unforgettable achievements. Despite missing out on the 2016 and 2017 ICC tournaments, her Australian team secured victories in the 2018, 2020, and 2023 T20 World Cups, the 2022 ODI World Cup, and Commonwealth Games Gold. They also set a remarkable world record with 26 consecutive one-day international wins and remained unbeaten in bilateral series from the beginning of 2018 until the recent Ashes series in England.
Last Updated on November 9, 2023