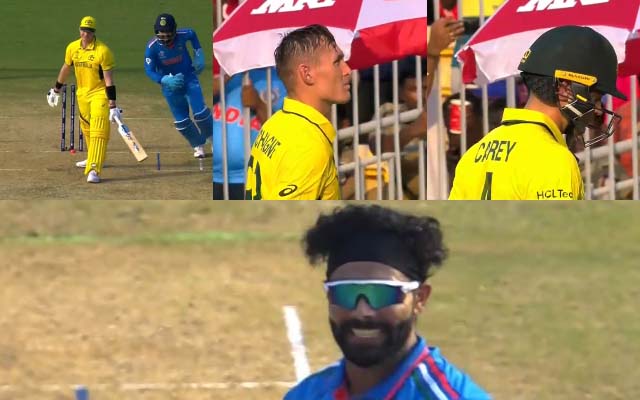 Ravindra Jadeja's brilliance in Chennai left Australia's middle order in turmoil, with his crucial wickets of Steve Smith in the 28th over and Marnus Labuschagne and Alex Carey in the 30th.
In the ongoing 2023 World Cup opener at the MA Chidambaram Stadium, Australia's captain Pat Cummins elected to bat after winning the toss against India. However, India got off to an ideal start when Jasprit Bumrah removed opener Mitchell Marsh in the third over. While Steve Smith and David Warner managed to stabilize the innings with a 69-run partnership in 85 balls, their progress was halted when Kuldeep Yadav dismissed Warner.
Subsequently, India's relentless pressure paid off as Ravindra Jadeja scalped Smith in the 28th over and later accounted for Marnus Labuschagne and Alex Carey in the 30th over.
Jadeja's first wicket was Steve Smith, who had been inching towards a half-century with 46 runs. The delivery started on a middle-line trajectory but then spun sharply away from Smith, leaving him bewildered. Smith's defenses were breached as the ball clipped the off stump, and he could only wear a rueful smile as he walked back to the pavilion. This critical breakthrough came on Jadeja's first ball after a prolonged break.
Jadeja clinched his second wicket in the 30th over, as Marnus Labuschagne's innings came to an end with the faintest of edges. Labuschagne attempted a sweep shot against Jadeja's second delivery of the over and K L Rahul held the catch standing up to the stumps. Labuschagne's hesitancy in taking the review was telling, and replays confirmed the faint edge.
In his second ball, Alex Carey fell victim to Ravindra Jadeja, marking the spinner's third wicket. From around the wicket, Jadeja lured Carey forward with a delivery targeting the middle stump, which then turned sharply towards the leg side and struck Carey's pad. Although Carey briefly contemplated a review, he wisely refrained, as the replay confirmed the ball's trajectory towards the top of the leg stump.
Last Updated on October 8, 2023