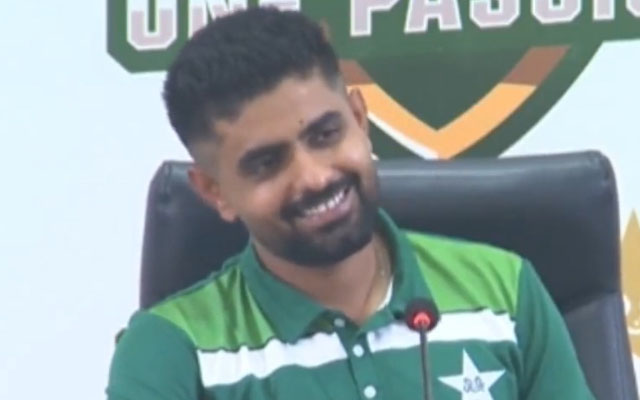 Babar Azam confidently countered a journalist's inquiry about Pakistan's spinners' recent form by challenging the reporter to identify superior spinners.
Pakistan's cricket squad is gearing up for the 2023 ODI World Cup, with their departure to India scheduled for Wednesday, September 27. Captain Babar Azam recently held a press conference to outline his team's preparations and strategies for the upcoming mega event, set to kick off on October 5.
During the press interaction, Babar Azam faced a challenging question from a journalist regarding his spinners' recent performances. The Pakistan skipper responded assertively, challenging the reporter to name better spinners if Pakistan's weren't up to par, effectively shutting down the intended criticism.
"Sir acche nahi hai to bata de kaun se ache hai. (If they're not good then tell me who all are good). It's not like that, you're looking at it from your point of view, you feel that they're not good. But for me they're my best players my best spinners. We start judging them very quickly, I agree they haven't been at their best in recent times but it doesn't mean they're not good. They're good that's why they're playing for Pakistan. I have full faith on them they will perform well in the World Cup," answered Babar.
Babar also expressed his regret over Naseem Shah's absence from the squad due to a shoulder injury. He disclosed that the management selected Hasan Ali as the replacement due to his extensive experience.
Hasan Ali, the golden ball winner during Pakistan's 2017 Champions Trophy victory, was the tournament's leading wicket-taker with 13 wickets from five matches, boasting an average of 14.69 and an economy of 4.29.
Surely, we will miss him a lot. He was bowling with the new ball in three formats and the duo of Shaheen and Naseem together gave a different vibe. Unfortunately, we will miss him we chose to replace him with the best availability we had. It was difficult. We had a long discussion with coach, Mickey Arthur and Inzy Bhai and chose Hasan Ali because he has a lot of experience of playing in World Cups," said Babar.
Pakistan kicks off their World Cup journey against the Netherlands on October 06 in Hyderabad, with warm-up matches against New Zealand on September 29 and Australia on October 03 preceding the main event.
Last Updated on September 27, 2023