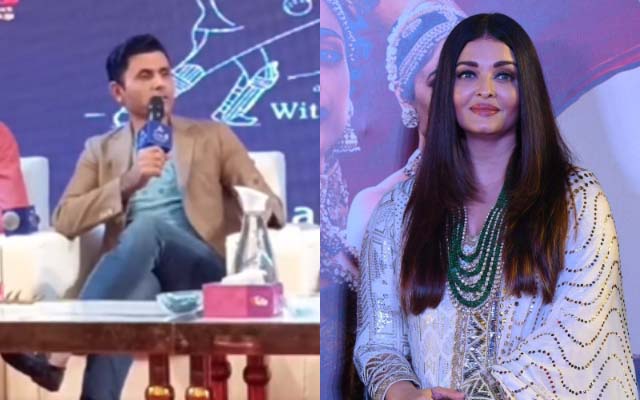 Abdul Razzaq apologized for the derogatory remarks on Aishwarya Rai during a discussion about Pakistan's World Cup 2023 campaign and acknowledged his poor choice of example in a viral video.
Former Pakistan all-rounder Abdul Razzaq apologized for remarks about Aishwarya Rai made during discussions about Pakistan's disappointing World Cup 2023 performance. He implied a lack of intent to develop talent within the team management, using Aishwarya's name as an example. Facing severe social media backlash, Razzaq issued a public apology in a viral video on microblogging site X.
READ MORE | Abdul Razzaq Faces Heavy Backlash for Controversial Aishwarya Rai Reference in Criticizing Pakistan Cricket
Razzaq clarified that his mention of Rai was an unintentional slip of the tongue, expressing regret for not using a different example to convey his point about cricket coaching and intentions.
"We were talking about cricket coaching and intentions. Meri zubaan fisal gai (I had a slip of the tongue) and mistakenly took Aishwarya Rai's name. I should have given some other example but said that by mistake. I apologize to her personally," Razzaq said in the video.
Software Updated Successfully 🙂 #AbdulRazzaq #AishwaryaRai pic.twitter.com/t8znVjuYm9

— Ahtisham 🚬 (@Mr_Ahtisham7) November 14, 2023
Umar Gul and Shahid Afridi faced criticism online as they were seen laughing in response to Abdul Razzaq's comments, drawing ire from netizens for their reactions. Afridi, later realizing the gravity of Razzaq's remarks after watching a video at home, expressed regret on Samaa TV, stating that he initially didn't grasp the context.
Shoaib Akhtar also strongly condemned Abdul Razzaq's disrespectful comment on Aishwarya Rai, stating that no woman deserves such disrespect. He highlighted that those around him should've immediately objected instead of laughing and applauding the inappropriate remark.
READ MORE | Shahid Afridi Breaks Silence on Aishwarya Rai Controversy: Promises an Apology for Razzaq's Remark
Last Updated on November 15, 2023