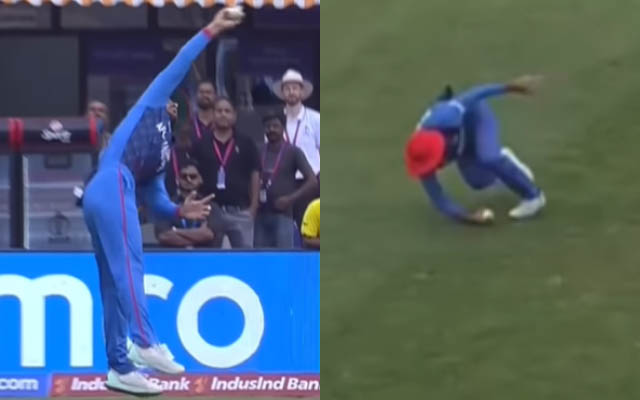 Rahmat Shah's extraordinary athleticism and fielding finesse were on full display as he executed a perfectly timed one-handed leap to pluck the ball out of the air.
Afghanistan began their ICC World Cup 2023 campaign in disappointment, suffering a six-wicket loss to Bangladesh in their opening match. However, the heroic efforts of the Afghanistan players in their bowling and fielding endeared them to the audience. Rahmat Shah's one-handed catch, which dismissed Mehdi Hassan Miraz, stood out as a "scene to watch" in the match.
After being bowled out for 156 runs, Afghanistan had a big challenge to defend. Bangladesh lost their first wicket early, but the all-rounder Mehdi Hasan Miraz played brilliantly and was poised to lead his team to victory. However, what unfolded afterward came as a surprise.
Mehdi lofted a drive towards mid-off in Naveen-ul-Haq's over, only for Rahmat Shah to showcase his exemplary athletics and fielding prowess. Shah perfectly timed his jump and plucked the ball out of the air single-handedly.
The entire stadium applauded this stunning catch, but the on-field umpires had doubts about declaring it as an out and sent it to the third umpire. The audience's intuition remained unchanged when the replay was viewed, and Mehdi Hassan had to return to the pavilion.
Nevertheless, Bangladesh was comfortably close to the winning mark, achieving it with ease and 92 balls to spare, with 6 wickets remaining. Consequently, Afghanistan began their World Cup campaign with a defeat.
When asked about his stunning catch after the match, Rahmat Shah responded, "It was a good catch, but I'm just disappointed that we couldn't win the match. We played well, but Bangladesh were better on the day. We need to learn from our mistakes and come back stronger in the next game."
Afganistan's next match is against India, scheduled for Wednesday, October 11th.
Last Updated on October 7, 2023