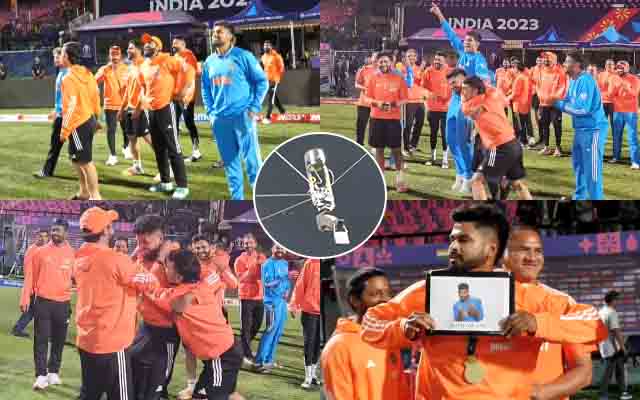 Following India's impressive four-wicket victory over New Zealand in the ODI World Cup match in Dharamshala, Shreyas Iyer was awarded the Best Fielder Medal for his outstanding fielding performance.
Following their impressive four-wicket victory over New Zealand in Dharamshala on October 22, the Indian cricket team transformed their dressing room into a hub of fun. What added an extra dose of excitement was the unique 'best fielder' award presentation by India's fielding coach, T Dilip, orchestrated via a spidey cam, creating an aura of comic book fun. The nominees, Mohammad Siraj, Shreyas Iyer, and Virat Kohli, were in a tight race for the title. Ultimately, Shreyas Iyer clinched the award for his remarkable low dive catch that dismissed New Zealand's Devon Conway. The Indian Cricket Board's behind-the-scenes footage captured the exuberant celebrations.
Team India broke a 20-year jinx by defeating New Zealand in an ICC tournament. Virat Kohli emerged as the hero, playing a magnificent innings of 95 runs, which propelled his team to its fifth consecutive victory in the ICC ODI World Cup 2023.
New Zealand, batting first, set a respectable target of 273 runs on the scoreboard. Daryl Mitchell's century and Rachin Ravindra's fifty had put the Kiwis in a strong position until Shami's five-wicket haul restricted them to less than 300. Rohit Sharma and Shubman Gill once again provided India with a solid start.
Rohit Sharma, elated with the win, commented, "Good start to the tournament. Job is half done. Important to stay balanced. Not to think too far ahead. Important to stay in the present. Shami took the opportunity with both hands. He has the experience in these conditions and is a class bowler. At one stage, we were looking at 300 plus."
Last Updated on October 23, 2023