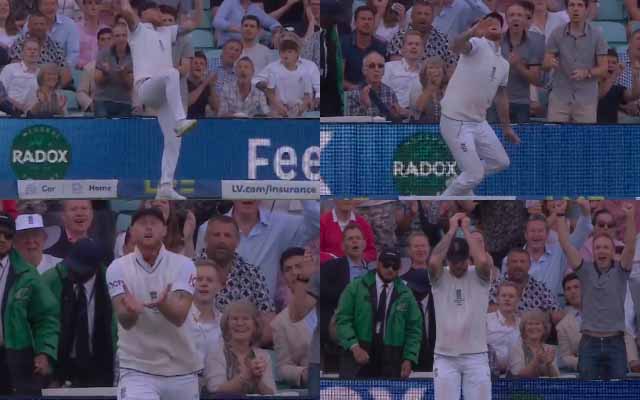 England Captain Ben Stokes showcased his brilliance on Day 2 of the Ashes Test with a remarkable catch, ending the day with Australia leading by 12 runs. 
Joe Root claimed his second wicket when he bowled to Pat Cummins, who attempted a big shot towards the long-on boundary. Stokes, stationed right at the ropes, displayed exceptional composure as he leaped up to grab the ball but was perilously close to crossing the boundary. However, he instinctively threw the ball into the air before landing and skillfully stepped back into the field of play to complete the catch. 
England would have preferred an earlier wrap-up, but this impressive feat came just at the stroke of stumps on Day 2. Stokes' heroics undoubtedly contributed to the team's morale and will be a significant moment in this gripping Ashes encounter.
What a way to finish the day! 😮

A stunning grab from the captain brings Day 2 to a close 👏

Australia lead by 1️⃣2️⃣ at the end of the first innings…#EnglandCricket | #Ashes pic.twitter.com/EdsUjrfmk7

— England Cricket (@englandcricket) July 28, 2023
Last Updated on July 28, 2023