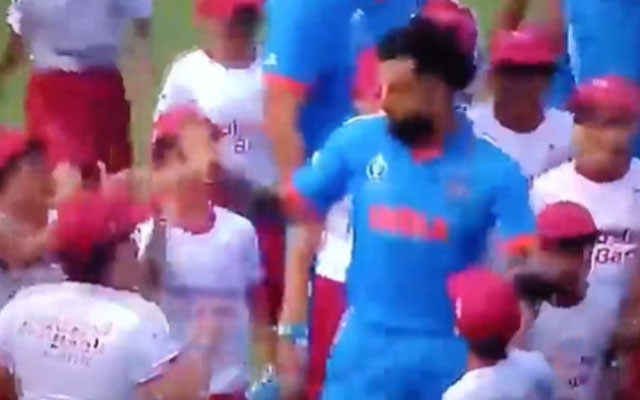 Amid a fierce World Cup clash against South Africa, Virat Kohli marked his 35th birthday and a historic 49th ODI century, with a heartwarming moment as a group of kids extended birthday wishes.
On November 5th, as India is facing a fierce World Cup clash against South Africa at the iconic Eden Gardens in Kolkata, star batsman Virat Kohli is celebrating his 35th birthday. The day held dual significance as it also marked Kohli's remarkable milestone – equalling Sachin Tendulkar's incredible record of 49 ODI centuries.
Adding to the day's charm, a touching moment unfolded after the national anthem. As Kohli was heading back to the dugout, a group of kids gathered around him, joyfully sharing their birthday wishes. It all began with one enthusiastic child approaching Kohli, offering a handshake, and soon, others followed suit, creating a heartwarming scene.
Kids with virat 💝❤️❤️❣️#ViratKohli #viratkohlibirthday #INDvSA love you sirrr #INDvsSA pic.twitter.com/OJZsGOR3Ca

— NIKHIL AHLAWAT (@AHLAWATNIKHIL11) November 5, 2023
Earlier, Eden Gardens was buzzing with an electric atmosphere as the 37th match of the ICC Cricket World Cup 2023 was set to unfold. The iconic venue was adorned for the thrilling showdown, and fans eagerly gathered around Kohli before the match to share warm wishes and capture memorable moments with the cricketing star.
READ MORE | Wishes Pour In as Virat Kohli Marks 35th Birthday with Century Milestone on the Line
Virat Kohli delivered a stellar performance in challenging conditions, equalling Sachin Tendulkar's record with his 49th ODI century as India reached a total of 326/5. Despite the Kolkata humidity, Kohli's celebration was subdued, having played throughout the innings.
Last Updated on November 5, 2023