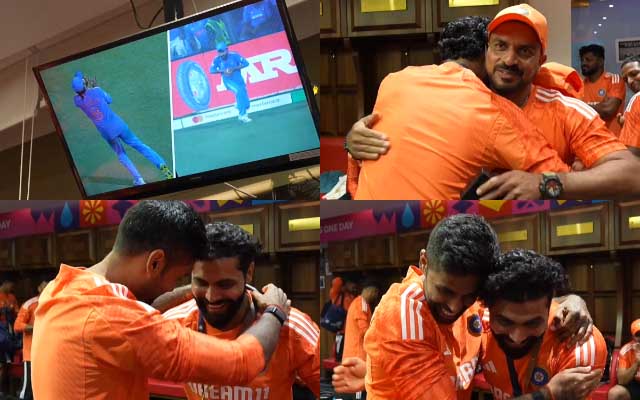 Following their semi-final win, the Indian team enjoyed a festive dressing room moment celebrating Ravindra Jadeja's victory for the unique 'best fielder' medal.
After their remarkable victory against New Zealand at Wankhede on November 15th, the Indian team celebrated joyously in the dressing room. Amidst the cheerful atmosphere, a special 'best fielder' award ceremony took place, featuring nominees Mohammed Siraj, Ravindra Jadeja, and KL Rahul.
Jadeja got praised for his incredible work at the back point, earning the nickname "guardian." Adding to the banter, KL Rahul humorously interjected, requesting the medal playfully, prompting laughter all around.
"I think the way you(Jadeja) stand at the back point, nothing goes past you without a single effort," said Dilip. Ultimately, the coveted medal was clinched by Ravindra Jadeja, presented by the previous recipient, Surya Kumar Yadav.
India sealed their berth in the ICC Men's ODI World Cup final with a commanding 70-run triumph over New Zealand. Posting a mammoth 397/4, Virat Kohli's record-breaking century and Shreyas Iyer's explosive 105 set the tone.
Mohammed Shami stole the show, claiming seven pivotal wickets. His impact began swiftly, grabbing early wickets and making amends for a missed opportunity. Although Shami's brilliance was evident, Williamson and Mitchell resisted. However, Shami's skillful display, including Mitchell's crucial dismissal for 134, turned the tide, securing India's spot in the final with two final dismissals.
Last Updated on November 16, 2023