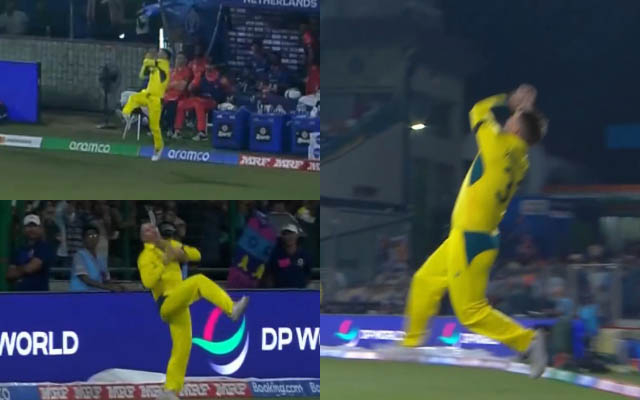 David Warner's acrobatic catch in the deep square leg during the 14th over of the ongoing Australia vs. Netherlands clash left Sybrand Engelbrecht stunned and marked the Netherlands' fifth wicket loss.
In the ongoing World Cup showdown between Australia and the Netherlands at Delhi's Arun Jaitley Stadium, Mitchell Marsh delivered a crucial blow to Sybrand Engelbrecht in the first ball of the 14th over. It was a spectacular catch by David Warner, who seemed unstoppable in this match.
Marsh sent down a short delivery aimed at the off and middle. Engelbrecht attempted a powerful front-foot pull but failed to gain the necessary height. The ball went flat and straight towards deep square leg. Out in the deep, David Warner timed his jump perfectly, clutching the ball in a reverse-cup style in front of his face while maintaining his balance near the boundary ropes. This wicket marked the Netherlands' fifth loss leaving them at 62/5 after 13 overs.
On the match front, the Australian bowlers, led by Mitchell Starc, are orchestrating a Dutch batting collapse, setting the stage for a likely Australian win.
Earlier, Glenn Maxwell delivered an explosive performance, propelling Australia to a commanding 399/8 in their 50 overs. Maxwell's remarkable feat saw him score a century in just 40 balls, setting a new record for the quickest century in 50-over World Cup history.
Prior to Maxwell's show, David Warner and Steve Smith laid a strong foundation for Australia, who chose to bat after winning the toss. Warner maintained his superb form, scoring back-to-back centuries, ultimately getting out for 104(93). Warner and Smith collectively added 132 runs for the second wicket before Warner fell victim to a spectacular low catch by Roelof van der Merwe, ending his innings at 71(68). Marnus Labuschagne also made a valuable contribution with 62 runs from 47 balls.
Last Updated on October 25, 2023