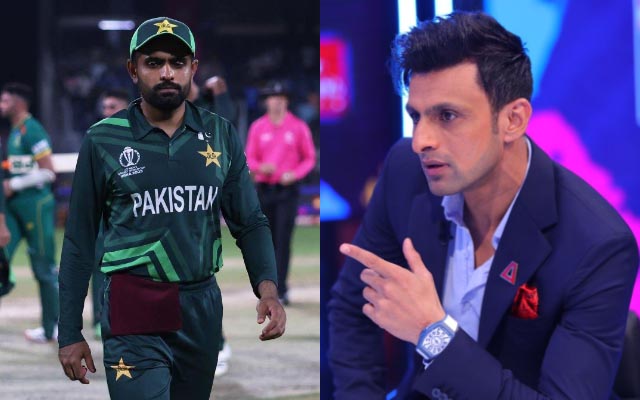 Shoaib Malik slammed the Pakistan team's lack of professionalism, particularly targeting captain Babar Azam, dismissing travel as an excuse and highlighting the need for better recovery methods.
Pakistan's World Cup 2023 ended disappointingly when they faced England. Needing to bat first for a shot at qualification, hearts sank as England won the toss and opted to bat. Pakistan's hopes dwindled further as they lost to England, bowled out for 244, sealing their exit from the tournament.
Former Pakistan skipper Shoaib Malik expressed frustration over the Pakistan team's poor performance in the World Cup. Speaking on A Sports, Malik criticized the current team and launched a harsh critique against captain Babar Azam. Dismissing travel as an excuse, he pointed to India's busy schedule, highlighting the missing professionalism in the Pakistani squad.
"Travelling are excuses. The whole world is traveling. Look at India's calendar. Their pacers didn't lost pace and swing. It is the professionalism, which is missing in our team," Malik said.
"You ask half of them and they would not know how to recover. In the recent past, we didn't had any ingredient, which can help you to get rid of cramps. We saw that in case of Maxwell, they gave him some gels and he played with severe cramps. It is all excuses. Traveling doesn't matter," he added.
@realshoaibmalik & Moin Khan share their advice to BabarAzam regarding his future as Pakistan captain 🇵🇰

VC: A Sports 📸 #BabarAzam #shoaibMalik #MoinKhan #askpavilion #PakistanCricket #WorldCup2023 #Cricket #PAKvENG pic.twitter.com/LUofUtIsrz

— Cricket with Anas (@CricketwithAnas) November 11, 2023
Given the subpar performances of key players like Babar Azam, Haris Rauf, and Shaheen Shah Afridi, Malik suggested that the PCB should consider a rule: when touring teams send their B squads, Pakistan's B side should play for developmental purposes.
Malik further slammed Babar's captaincy style, attributing Pakistan's World Cup struggles to a casual approach and a dearth of resources. Expressing disappointment, he pointed out the team's limited success against stronger opponents.
Moin Khan joined in, suggesting that if Babar struggles with captaincy, he should follow the examples of Sachin Tendulkar and Virat Kohli and consider resigning, stating it's not a negative move.
Last Updated on November 12, 2023