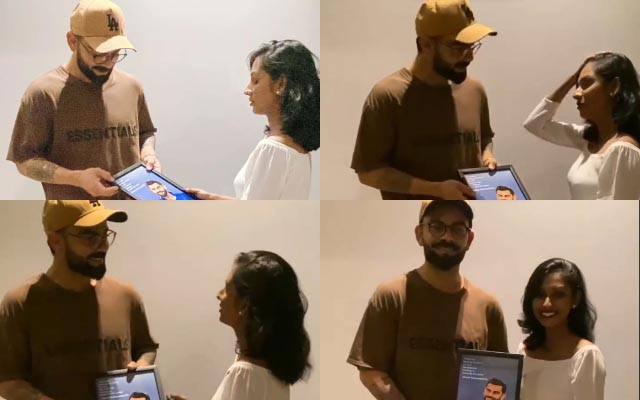 After India's 41-run victory over Sri Lanka, former captain Virat Kohli met with fans in Colombo, where he was presented with a handmade portrait by a Sri Lankan supporter.
Following their decisive 41-run victory against Sri Lanka in the Asia Cup, former Team India skipper Virat Kohli engaged with fans in Colombo. This meet-and-greet came during a well-deserved rest day for the Men in Blue, who had played three consecutive days of intense cricket. While his fellow cricketers opted to spend quality time with family members, Kohli made a special effort to connect with fans in the hotel lobby.
One passionate admirer went the extra mile, presenting him with a beautifully crafted handmade portrait. Kohli graciously reciprocated the fan's enthusiasm by posing for a cherished photograph, creating a memorable moment for both.
During the Asia Cup, Virat Kohli has showcased his cricketing prowess, playing a pivotal role in India's success. With an impressive tally of 129 runs across four matches at an average of 64.50, he has been the driving force behind the team's campaign.
Most notably, Kohli has achieved his 47th century in ODIs, edging closer to cricket legend Sachin Tendulkar's record of 49 ODI centuries, setting the stage for a potentially historic milestone.
Last Updated on September 14, 2023