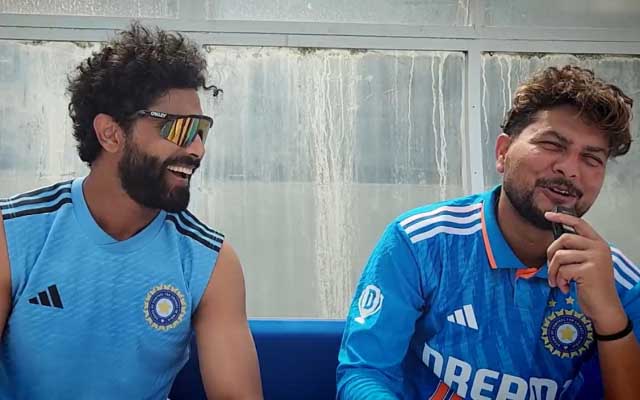 Kuldeep Yadav and Ravindra Jadeja's left-arm spin magic weaved an unforgettable spell during the first ODI against the West Indies in Barbados. Kuldeep's exceptional bowling yielded four crucial wickets, conceding a mere 6 runs. While Jadeja showcased his skill with a three-wicket haul, giving away 37 runs. Their joint effort of 7 wickets has etched a new chapter in Indian cricket history as the first pair of left-arm spinners to achieve this feat in an ODI match.
In a hilarious video shared by BCCI, Jadeja and Kuldeep were all smiles after their victory. They were caught on camera, exchanging bowling secrets and having a great time together. Kuldeep expressed his heartfelt admiration and gratitude towards Ravindra Jadeja, hailing him as his ultimate source of inspiration and learning.
But the real fun began when Jadeja playfully teased Kuldeep about his hairstyle, to which Kuldeep had the best comeback everwhen Jaddu tried to pull Kuldeep's leg about his cool new hairstyle in the scorching Barbados weather. "Hey, I'm just copying my all-time favorite man, Jaddu! He's my hero both on and off the field!", Kuldeep replied.
Watch the full video here:
Last Updated on July 28, 2023