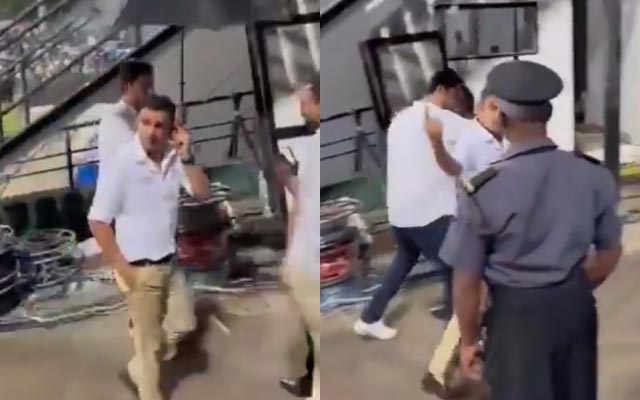 Former Indian cricketer Gautam Gambhir has once again grabbed attention as he responded with a lewd gesture to fans chanting "Kohli, Kohli", sparking a contentious debate among cricket enthusiasts.
Gautam Gambhir has once again stirred controversy by responding provocatively to fans chanting "Kohli, Kohli" during a recent event. A video clip, widely shared on Twitter, quickly went viral, generating thousands of views and a flurry of reactions. In the clip, Gambhir can be seen surrounded by a crowd of fans chanting Indian cricket captain Virat Kohli's name. As he walked away, he gestured to the crowd in a defiant manner, expressing his displeasure.
The incident has sparked a heated debate among cricket enthusiasts, with some applauding Gambhir's boldness and others expressing disappointment in his behavior. Known for his aggressive style, Gambhir's unapologetic nature is evident once more, raising questions about the constant comparisons between him and Kohli.
श्रीलंका में गौतम गंभीर को देखते ही भीड़ कोहली-कोहली चिल्लाने लगी। उसके बाद भाई साहब का रिएक्शन देखिए #IndvsNep pic.twitter.com/5GobubPtIE

— Bhadohi Wallah (@Mithileshdhar) September 4, 2023
Gambhir and Kohli's history of on-field clashes have always been a source of frequent headlines. Despite this rivalry, both players have openly acknowledged each other's talents and contributions to Indian cricket.
However, this incident has once again ignited debates regarding their relationship and the persistent comparisons between them. Social media is buzzing with opinions; some find Gambhir's actions inappropriate, while others attribute it to the pressure athletes face. The incident has also prompted discussions about sportsmanship and respect in cricket.
As the video continues to circulate, fans are eagerly anticipating Gambhir and Kohli's responses, hoping for a resolution to this latest controversy.
Last Updated on September 4, 2023