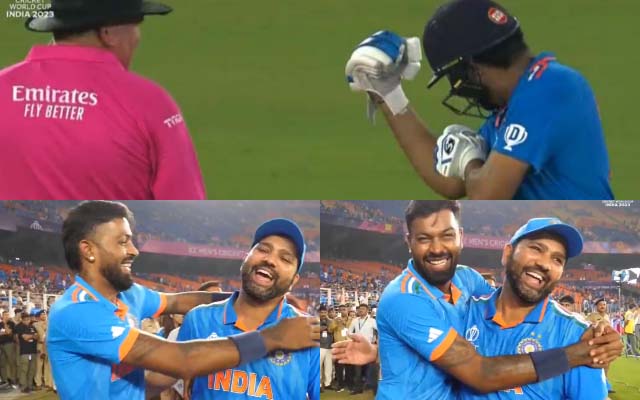 After hitting his fourth six in India's World Cup victory against Pakistan in Ahmedabad, Rohit Sharma playfully flaunted his bulging muscles to umpire Marais Erasmus, later explaining the reason behind this comical gesture.
On Saturday, October 14, Indian captain Rohit Sharma delivered a remarkable performance against Pakistan in the ICC World Cup 2023, securing a memorable seven-wicket victory. Rohit's explosive innings, comprising 86 runs from 63 balls, propelled India to the top of the points table with a perfect three-win record. He hammered an impressive six sixes at Ahmedabad's Narendra Modi Stadium, surpassing the record for the most international sixes. Additionally, he became the first Indian cricketer to achieve 300 sixes in ODIs, with his third six in the match.
During the eighth over of the game, the Indian captain left the Ahmedabad crowd in awe by launching a spectacular 90-meter six over the covers against Haris Rauf. After nailing his fourth six, Rohit Sharma added a touch of humor, approaching umpire Marais Erasmus and playfully showcasing his bulging biceps with a cheeky smile.
Rohit Sharma showing off his muscles to Umpire Marais Erasmus 💪 pic.twitter.com/am5esDIFRk

— Rajnish Yadav (@kRajnishYadav) October 14, 2023
Following India's victory against Pakistan in the 2023 World Cup in Ahmedabad, Rohit Sharma shared with Hardik Pandya the backstory of his playful muscle-flexing encounter with umpire Marais Erasmus. In a post-game chat, Rohit disclosed that after smashing a six, Erasmus inquired about his extraordinary hitting abilities and questioned if there was anything special about his bat. Rohit clarified that it was sheer power and humorously gestured to his muscles, saying, "It's not the bat; it's the power."
October 15, 2023
Jasprit Bumrah claimed the Player of the Match award for his remarkable two-wicket haul, with all Indian bowlers, except Shardul Thakur, securing two wickets each to solidify India's victory. Speaking in the post-match presentation, Rohit Sharma commended the Indian bowling unit, expressing optimism about their performance in the long tournament ahead.
Last Updated on October 15, 2023